Several children will be given a new lease of life as a mission arrives at the Georgetown Public Hospital to conduct open-heart surgery over the next week.
Some 20 overseas healthcare professionals – including doctors, surgeons, respiratory therapists and nurses – are volunteering their services to perform 10 life-changing surgeries over the next week.
The Government, through the Health Ministry, has expended some $60 million to procure needed equipment, supplies and specialised medications that will be used. This sum will also cover auxiliary costs during the week.
Georgetown Public Hospital Corporation (GPHC) Chief Executive Officer (CEO) Robbie Rambarran shared on Monday, "We are projecting to have two surgeries per day. Everything is going good so far…We are here to make this a success."
The children range from eight months to 16 years of age. However, the mission is not limited to only surgical intervention, Rambarran pointed out. He added that this was in keeping with President Dr Irfaan Ali's vision to establish world-class health services for the Guyanese people.
"It's also helping us in capacity building, training our nurses, doctors and all our staff. The biomedical department has received so many training over the last week. It has been huge and I can see everybody is very passionate about delivering this programme."
Post-operative care will also be provided, for which 17 nurses and nine doctors have already been trained.
"Most of the surgical interventions are done by overseas doctors, so our staff were trained on how they will screen the patient before. Most importantly, after the surgery, is the care that you are going to receive. The surgeons can do a perfect job, but if they don't get that care, it defeats the purpose. That's the intention of this mission; to build capacity," the GPHC CEO identified.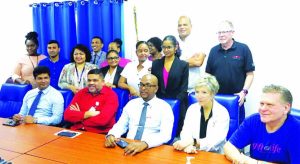 While Government has been making sizeable injections into healthcare delivery, capacity building and human resources have remained a challenge.
According to Head of Paediatrics, Dr Tarik Davidson, there are more than 100 persons with congenital heart defects, thereby requiring surgical intervention.
"Improvements in our healthcare system means that we're diagnosing more patients, patients are surviving for longer and thus, that list of patients continues to expand. This is just the first step in a series of steps that needs to be taken to address that backlog of patients that are there," he told the media.
The mission initiative first started in 2015. It was ceased in 2018 and has now been reintroduced. In 2021, discussions started for the programme to restart and a new Memorandum of Understanding (MoU) was crafted with support of the Health Ministry.
The mission was made possible by Gift of Life International and the Guyana Programme to Advance Cardiac Care (GPACC).
Gift of Life CEO Rob Raylman shared that they have been working in 80 countries, treating over 46,000 children.
"The investment that this government has shown in developing a programme to care for their children is exceptional. The support from the hospital, doctors, nurses is exceptional…It is the Government and the hospital that are the reason that we're here today," Raylman shared.
In the coming months, there will be enhanced coordination to have other missions to aid in clearing the backlog of children awaiting surgery.
The GPHC is planning to have another mission in Guyana by December to handle some of the existing cases. (G11)