It has been one month since the drainage works along the Parika Access Road on the East Bank of Essequibo (EBE) have caused a rupture at the side of the roadway. This rupture continues to expand, and until now, efforts have not been initiated to fix the mishap.
Speaking with Guyana Times on Thursday, Chairman of the Parika-Mora Neighbourhood Democratic Council, Jaideo Sookhoo, explained that under the guidance of the Public Infrastructure Ministry, works were carried out by a private company to fix the main drainage system.
He noted that this road is the main access road to some communities, and while the roadway has not been obstructed, the crack can cause the road to collapse, due to the absence of a support mechanism. Moreover, he said, the crack poses a danger to motor vehicles in the night, and can cause serious accidents.
This publication was told that the road was recently upgraded and paved with asphalt. However, the rupture expanded and wooden planks were used to alert drivers to the danger.
"A construction company was doing work at the main drain, and their machine (caused) the land to 'pull' and cause that. People are using the same road, but it is dangerous and can erode. They need to fix it, because it is dangerous. It is the only main access road for Parika Back, Naamryck and that area," the Chairman stated.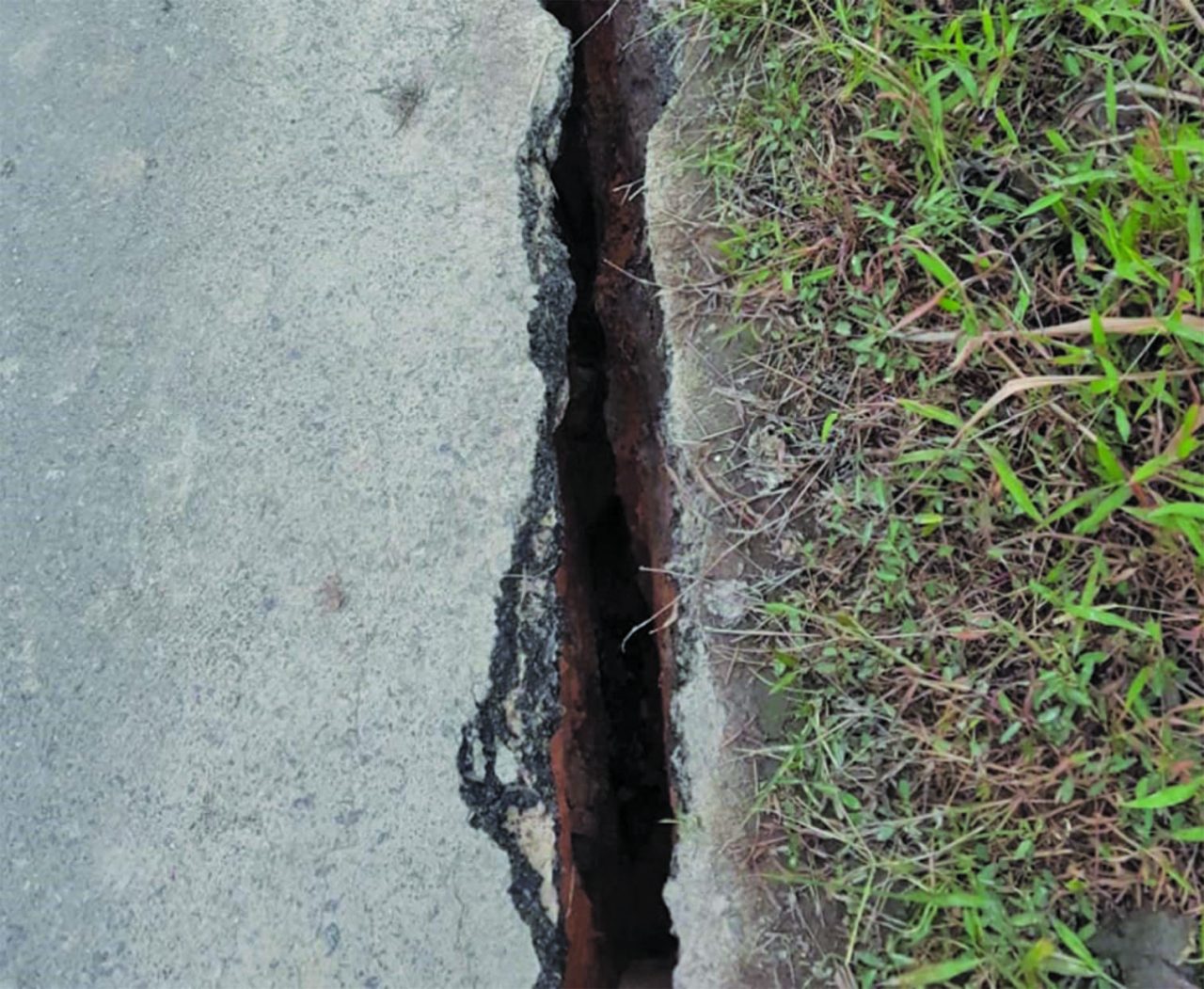 Meanwhile, one individual related that she was driving on the street a few days ago when she almost lost control from driving onto the fissure. At that time, the gap was just a few inches wide, but it has been expanding after several observations were made.
"This road will sink or break off if they don't fill the space, because it's a few feet deep. Apparently I didn't see it at first, and then I drive over and the car just swerved, and then there's no light," she stated.
Guyana Times attempted to contact the Public Infrastructure Minister for a comment on the matter, but those calls went unanswered.
Meanwhile, this is not the first exercise in recent times which has affected NDCs. Just recently, the Tuschen-Uitvlugt NDC was affected by the excavation of the Boeraserie dam by persons who were using the excavated material to fill a playground. After intervention from the Regional Democratic Council, those operations were halted.