…economy to grow by 47.5%
By Jarryl Bryan
The Government of Guyana, through Senior Minister in the Office of the President with responsibility for Finance Dr Ashni Singh, on Wednesday presented a mega $552.9 billion budget to the National Assembly that will, for the first time, feature the use of Guyana's oil revenues.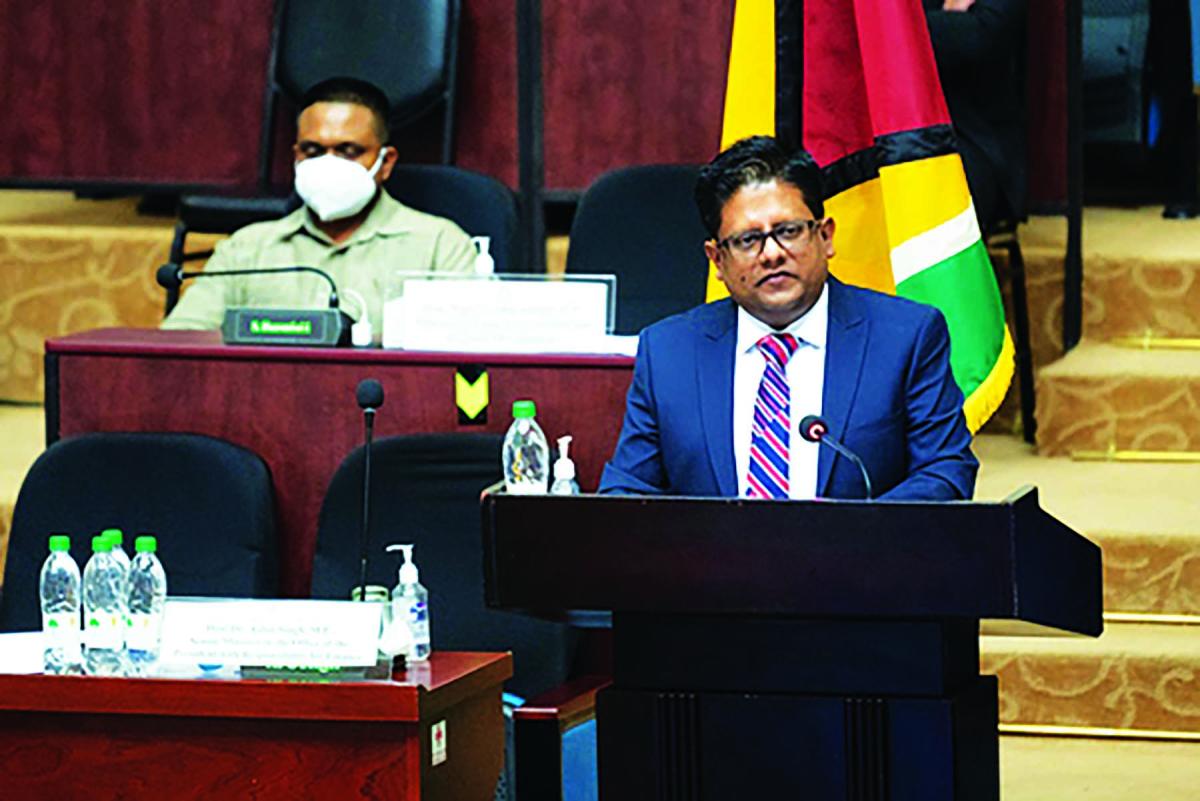 In his over five-hour long presentation of the budget under the theme "Steadfast Against All Challenges, Resolute In Building Our One Guyana", Dr Singh announced a slew of measures aimed at increasing disposable income for the general public, but particularly parents and the vulnerable in society.
For one, the "Because We Care" cash grant was increased to $25,000. Additionally, old age pension has been increased to $28,000 and public assistance payments went from $12,000 to $14,000. According to the Finance Minister, this will benefit 18,000 persons and provide an additional $432 million in disposable income to these individuals
"It would be recalled that this grant was unconscionably discontinued by the APNU/AFC. On returning to office, not only have we reintroduced it, but we now propose to increase it from $15,000 to $25,000 per child. This will place an additional amount of $2 billion in the homes of the same 200,150 children attending both public and private school," the Finance Minister said.
The Government also increased the unform grant from $4000 to $5000 per child. According to Dr Singh, this will place $200 million of disposable income in the homes of 200,150 children attending both public and private school.
Cost of living
In a move to address the rising cost of living, Dr Singh meanwhile announced that the Government will be arranging monthly farmers' markets at locations to be specified in East Berbice, East Coast Demerara, Georgetown, East Bank Demerara, and West Coast Demerara in the first instance, with the possibility of extending to other locations depending on the initial experience.
"This will help our farmers find ready markets for their produce, and help consumers benefit from the price advantage of buying directly from the farmer," the Finance Minister said, referring to the fact that farmers' markets are known to provide organic produce at a far cheaper cost than store bought produce.
He also announced that consultations will be held with communities both on the coast and in the hinterland that are most affected by the rising cost of living, on possible interventions to help ease the impact on their pockets. A sum of $5 billion has been set aside to meet the cost of whatever measures are decided on following these consultations.
Other measures intended to lighten the load on the pockets of the average Guyanese, are the Government's plans to further lower the excise tax rate on gasoline and diesel from 20 per cent to 10 per cent, which is expected to result in significant reductions in the prices of fuel. In 2021, Government had reduced the excise tax twice – once in February and then again in October.
There will also be significant reductions in the excise taxes for several categories of trucks and pick-ups. Regarding the importation of new motor trucks of any tonnage for transport of goods (vehicles less than four years old), the Government will remove the 10 per cent excise tax.
The Finance Minister also announced that the 14 per cent Value Added Tax (VAT) that currently applies for new trucks will also be removed. In relation to importation of new haulers for pulling containers or similar vehicles for pulling, the Government will also remove the currently applicable 14 per cent VAT rate.
Personal income
Another measure announced by the Government was the increase in the monthly income tax threshold from $65,000 to $75,000, thereby releasing a total of $1.3 billion into the hands of current taxpayers both in the public and private sectors.
On the personal income and savings front, the Finance Minister announced that the withholding tax on individuals whose total interest returns on their savings fall below $10,000 per annum, will be removed. This, according to the Minister, will encourage persons to save even more.
"Mr Speaker, it would be recalled that a withholding tax is currently charged on interest income earned on deposits in the banking system. In order to alleviate the impact of this withholding tax on individuals with modest deposits, we are proposing to remove the withholding tax from individuals whose total interest income does not exceed $10,000 per annum. This measure will cost $30 million and will bring much needed relief to those individuals with modest savings in the bank," he said.
An additional measure announced by the Government is that in 2022, a Dialysis Support Programme will be introduced whereby the Government will finance up to $600,000 per annum worth of dialysis treatment for "each and every dialysis patient" in Guyana. This programme will provide much needed assistance to almost 300 persons with failing kidneys, at a cost of $180 million.
For those who possess life and medical insurance, the Finance Minister announced that the Government is proposing to allow them a deduction from their chargeable income for premiums paid for life and medical insurance up to a maximum of 10 per cent of their income or $30,000 monthly whichever is lower.
Loan ceiling
Singh also stated that since taking office, the Government had announced two increases in the ceiling on low-income loans that may be obtained through commercial banks under the low-income housing loans programme. The first was from $8 million to $10 million and the second from $10 million to $12 million. "I now wish to announce a further increase in the ceiling from $12 million to $15 million. This will make housing loans from commercial banks more affordable to borrowers within that range, and help encourage persons who now have a house lot to proceed to borrow and build," he said at Wednesday's budget presentation.
Economy
Meanwhile, the Finance Minister provided both the economic projections for the year and the statistics for last year. According to him, the Gross Domestic Product (GDP) growth rate puts Guyana within the top percentile of fastest growing economies in 2021
"Mr Speaker, real Gross Domestic Product (GDP) is estimated to have grown by 19.9 per cent, while non-oil GDP is estimated to have grown by 4.6 per cent in 2021, despite the persistence of COVID-19 as well as the impact of the floods. With this rate of overall growth, Guyana is likely to be amongst the three fastest growing economies worldwide in 2021."
"Real GDP is projected to grow by 47.5 per cent, a rate of growth which no other country in the world is currently projected to achieve in 2022. This reflects the coming into operation of the second FPSO vessel, the <<<Liza Unity>>>, which will significantly ramp up oil production," the Finance Minister said.
Meanwhile, he explained that the non-oil economy is expected to continue registering strong growth, projected to grow by 7.7 per cent this year. This, he explained, will be driven mainly by rebounds in rice cultivation and gold mining, as well as continued expansion in construction activity and wholesale and retail trade and repairs.
Of significant importance, Budget 2022 is the first budget that will benefit from financing from the proceeds of Guyana's new and emerging oil sector. Government plans to withdraw from the Natural Resource Fund and transfer to the Consolidated Fund, a total of $126.7 billion. The Natural Resources Fund currently has a balance of US$607.6 million.