10 years later
…says Public, Private Sectors still reluctant to employ disabled people
November 2, 2020, marked ten years since the Persons with Disabilities Act was passed in the National Assembly and ascended to by former President Bharrat Jagdeo.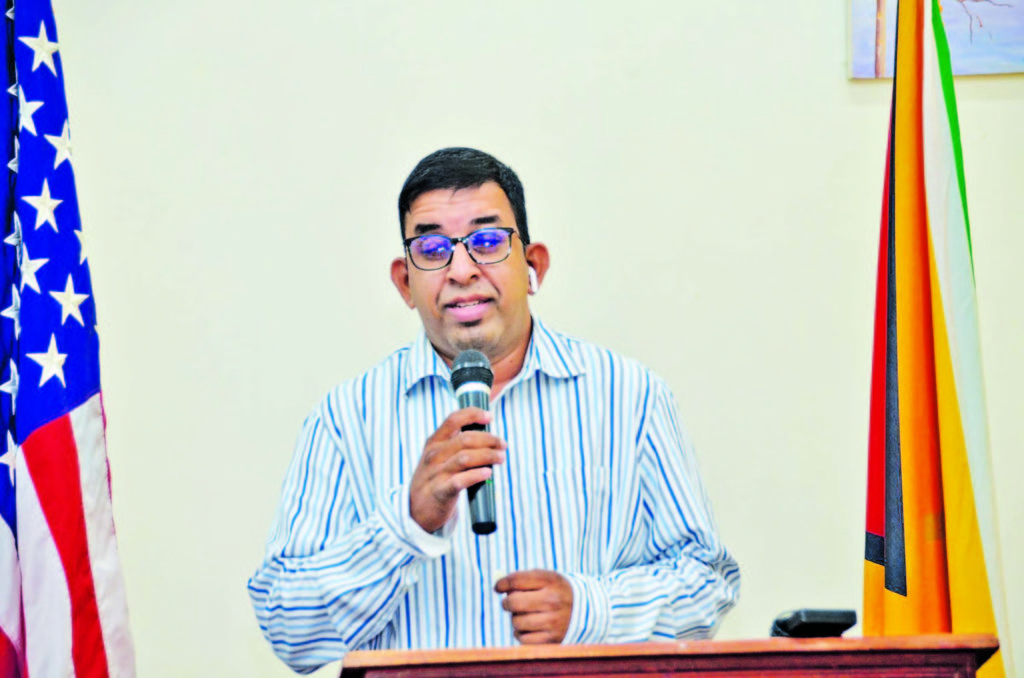 It provides for equal treatment, opportunities and access to services for those persons living with disabilities in Guyana. The Act was passed two years after the Guyana Council of Organisations for Persons with Disabilities (GCOPD) was established.
Programme Coordinator at GCOPD, Ganesh Singh stated that there has been minimal implementation with respect to the Disabilities Act. In this regard, Singh is calling for it to be activated in several areas, including education, employment, housing, public assistance and accessibility.
"For me, I am not satisfied and we have not achieved much over the last 10 years. However, I am optimistic that the disability landscape will change positively in the coming years," expressed Singh who has been continuously advocating for equal rights for Persons with Disabilities (PWDs).
"Disability rights are human rights," he noted.
Employment
The legislation states that PWDs are to be employed without any discrimination. However, this is far from reality. In fact, Singh disclosed that a majority of PWDs are still unemployed.
"Both the public and private sectors still have reservations in employing PWDs. This reluctance is grounded in the negative perception that exists and have existed for decades – viewing PWDs as being dependents and not individuals that can be productive independent individuals," Singh added.
Notwithstanding this, he related that strides are being made in having more PWDs employed through various initiatives. According to Singh, through the Board of Industrial Training (BIT), approximately 400 PWDs from Region Two (Pomeroon-Supenaam); Region Three (Essequibo Islands-West Demerara); Region Four (Demerara-Mahaica); Region Five (Mahaica-Berbice); Region Six (East Berbice-Corentyne) and Region 10 (Upper Demerara-Upper Berbice, have been trained in various skilled areas since 2016.
"Some of these individuals have been able to gain some level of employment. Others have been able to establish their own small businesses. However, the majority of the trainees have not been able to gain meaningful employment," he pointed out.
Another positive, he added, are efforts being made by First Lady, Arya Ali to engage the Private Sector to employ these people. In this regard, he said that a list of PWDs who need employment has been submitted to the Office of the First Lady to be used for lobbying the Private Sector agencies.
Singh further pointed out that GCOPD has been engaging various stakeholders in levelling the playing field in terms of employment for persons with disabilities. The organisation, he added, recently had a productive meeting with the President of the American Chambers of Commerce (AmCham) in Guyana, Zulfikar Ally.
He said that Ally promised to engage his membership to support the employment of PWDs. Also, Singh noted that Labour Minister Joseph Hamilton and Public Service Minister Sonia Parag have committed to working to get more PWDs employed within the public sector.
Poverty
As a direct consequence of the unemployment of PWDs, the majority live in poverty. They receive approximately $9000 per month through the "Public Assistance Grant" programme from the Ministry of Human Services and Social Security. But according to Singh, this sum is "woefully inadequate" to cover the basic monthly needs of persons living with disabilities.
In light of this, he explained that most of them supplement their meagre income with charitable donations and support from friends and relatives. Since this is not the most dignified manner of living in the eyes of Singh, he stated that GCOPD proposed for the PPP/C government to establish a disability grant that is separate from the public assistance which should at least be equivalent to the old-age pension.
The Government is supportive of this idea and this was communicated by Public Infrastructure Minister Juan Edghill during a meeting with GCOPD, he informed.
Accessibility
The majority of buildings for public access are still being constructed without accommodations for wheelchair users and other PWDs. In light of the foregoing, Singh noted that the Ministry of Housing needs to ensure that all building plans for buildings for public access have accommodations for wheelchair access and other accommodations in their designs before their plans are approved.
"Additionally, the building codes should be modified if necessary, to comply with the contents of the disability Act in the area of accessibility."
According to him, Public Works Minister Juan Edghill has committed to ensuring that some traffic lights at busy intersections that are used by blind and visually impaired persons are retrofitted with devices to give an audible signal when it is time to cross the road.
He disclosed that the Public Works Ministry has also committed to having pedestrian crossings at intersections frequented by blind persons modified to have tactile strips to help with navigation.
Education
Under the Persons with Disabilities Act, the Education Ministry is required to formulate and implement a national Special Education Needs (SEN) programme for the education of Children with Disabilities (CWDs). While he acknowledged the Ministry for making some strides in fulfilling this provision, Singh stressed that a lot more work is still needed.
Some of the progress made includes the employment of Region SEN officers that work with the regional education departments to implement the programme in each region and the establishment of SEN schools in Region Three (Essequibo Islands-West Demerara), Region Seven (Cuyuni-Mazaruni) and Region Five (Mahaica-Berbice).
However, Singh pointed out that more needs to be done especially in the allocation of more resources to the SEN sector, the training of teachers in the field of SEN, the establishment of a system of inclusive education in Region One (Barima-Waini), Region Two (Pomeroon-Supenaam), Region Eight (Potaro-Siparuni) and Region Nine (Upper Takutu-Upper Essequibo).
The Programme Coordinator at GCOPD is also calling for the improvement of existing systems for SEN in Region Three (Essequibo Islands-West Demerara), Region Four (Demerara-Mahaica), Region Five (Mahaica-Berbice), Region Six (East Berbice-Corentyne), Region Seven (Cuyuni-Mazaruni) and Region 10 (Upper Demerara-Berbice).
In addition, he is also calling for the revision of the curriculum that guides teaching in the SEN schools; more children with disabilities entering the mainstream schools; making more mainstream schools accessible with ramps and accessible washrooms, et cetera to accommodate children with disabilities.
Meanwhile, on the issue of housing, Singh was keen to point out that there are many PWDs that need their own homes. He added that these persons have applied for house lots several years ago, but are still awaiting a response from the Ministry.
He expressed that he is grateful to Minister within the Housing Ministry Susan Rodrigues, who has committed that the Ministry will prioritise applications by PWDs and ensure that their needs are included in the new housing policy.
In its congratulatory message to President Irfaan Ali, GCOPD said that it is looking forward to a productive partnership with Government as it seeks to create equal opportunities for PWDs, which will ultimately create a more inclusive and accessible Guyana.