…Players' enthusiasm most refreshing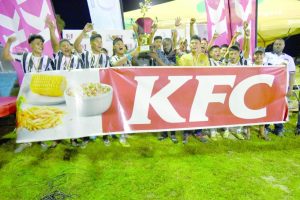 The Petra Organization is one of the more popular independent bodies in Guyana that take on competition organization for the sport of football.
The entity, which focuses primarily on the development of school football, understandably saw its work halted by the COVID-19 pandemic and the absence of in-person classes for students.
As Guyana's students returned to school, the Organization jumped at the opportunity to get going again in June 2022, and according to Co-Director Troy Mendonca, it was the best time to do so.
"First of all, we were anxiously waiting. As you know, the whole COVID situation started easing up the year before; so, since then, we were looking at when we could come back, because longer break makes it more difficult. So, I think that was the opportune time to get back, and we were in conversation with our sponsors and the other organisations, so we were just waiting for the right time to get started," Mendonca told Guyana Times Sport in an exclusive interview.
When quizzed about how the Organization was able to run 7 consecutive tournaments in the space of 6 months, sometimes overlapping, Mendonca shared that it was all a part of their routine and ability to stick to what works.
"That speaks volumes for the members of the organization. We have a structure in place where we have persons responsible for different areas of our operation, and basically, we allow that to work, we allow each individual to perform their task; and because of our experience with these tournaments, we understand fully what are the requirements. So, it becomes easy," he explained.
Mendonca added, "It's like a clockwork, it appears not that difficult. But the beauty about it is everyone has a responsibility, and they all pull their weight."
Touching on the positive takeaways from Petra's 2022 resurgence, Mendonca singled out the young players' enthusiasm at being able to compete in the sport.
"Point to note, that was one of the most refreshing things for us. Having an absence of the sport for two years and more, especially at the under-11s, to see the enthusiasm among these kids and the efforts from the other age groups, it was really refreshing," the Petra Co-Director related.
"You know, it tells us a lot in terms of what they want to achieve, what they want to do, and how we all miss what was happening. So, that in itself is another motivation for the organization."
Mendonca went on to share with this publication, "Again, I just want to reiterate, it's not just Petra Organization, its football in the whole. If you can get that kind of environment, the entire sport can benefit. So, that was a refreshing sight."
The Petra Organization is likely to start its 2023 year with the Girls' U11 tournament, followed by the Milo U18 Tournament.