Legal challenge
…case against AFC's "fraudulent" list for hearing today
The People's Progressive Party's (PPP) challenge disputing the validity of the Alliance For Change (AFC) list of backers in the Whim/Bloomfield Neighbourhood Democratic Council (NDC) is set for hearing at the Berbice High Court today, before Justice Navindra Singh. However, attorney for the applicant, Anil Nandlall
has said his client, Shafraz Beekham's name has suddenly disappeared from the list under question.
After this year's Nomination Day for the Local Government Elections (LGE), Whim/Bloomfield constituency candidate for the People's Progressive Party/Civic (PPP/C), Shafraz Beekham, discovered his name of the AFC list. He subsequently filed a legal challenge against the Guyana Elections Commission (GECOM) to ensure that himself and the 50 other persons names which were "fraudulently" affixed to the AFC list of backers be removed. Ahead of the hearing Nandlall told members of the media on Wednesday that Beekham's name was deleted as he offered theories disclosing why was this was done.
"Yesterday (Tuesday) at a GECOM meeting, a list was produced by the Chief
Elections Officer Kieth Lowenfield purporting to be the very list that we are complaining against and outrageously the name 'Shafraz Beekham' is absent on that list. Our list has the RO's (Returning Officer) stamp," he said.
The Chief Elections Officer and the Whim Returning Officer (RO) Orlando Christopher Persaud are the respondents in the matter but the attorney suggested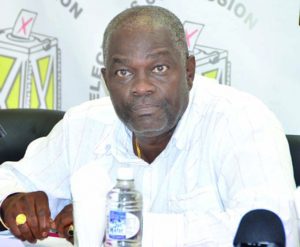 that the now redrawn list is geared to derail his case.
"The name was obviously deleted so they can go to the court [today] to say 'look this man who is complaining that his name was fraudulently procured and placed on that list; his name is not that list' but the manufacturing seems to have taken place in GECOM itself and that is what is worrying. However, 50 names (PPP candidates) are on that (AFC's) list and our Commissioners asked for that list that they have to be given to them and that request was denied," Nandlall further explained.
The former Attorney General further told Guyana Times that Lowenfield explained that the list he declined to disclose was "for his lawyer". The PPP is also seeking to have the names of 50 electors, removed from the AFC's list in the Berbice NDC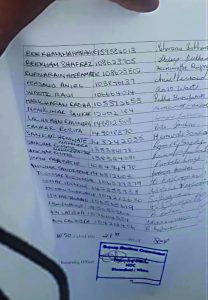 under question.
In a sworn affidavit, Beekham, who is a registered elector on the official List of Electors for Constituency Number Three had said that he and others were "deliberately deceived into signing a document by an AFC representative who he claimed fraudulently represented that she was employed by GECOM and that he needed to sign a document to confirm that his name was on the voter's list.
Beekham's legal suit stated that on Tuesday, September 25, 2018, he and other electors visited Persaud's office in Whim to submit the affidavits to have their names withdrawn.
The litigant had also said that he learnt on Friday, September 28, that Persaud, the RO, had refused to withdraw his name and that of the 49 other electors from the lists submitted by the AFC. Aside from Nandlall, Adrian Anamayah and Ian Anamayah are also representing the applicant. The current case is just one of several actions filed ahead of the November 12 polls.