Six heavily armed bandits invaded the house of a Black Bush Polder, Berbice family terrorising and robbing them of $6 million.
Reports are the gunmen entered the Lot 34 Zone Lesbeholden, Berbice home of RajKunarie Haimchand. The woman and her 32-year-old son were alone in the home.
According to the 52-year-old woman, about 23:00h on Monday, a friend visited her home and asked her son for some food. She said at the time she was already in her bed, but got up and took out the food for the friend. She said the friend was an overseas-based Guyanese, who was in Guyana to conduct business. According to the woman, the door to the house was left open as they chatted. Haimchand said as soon as she was finished taking out the food, four masked men all carrying guns stormed into her home. She said that two more stood at the door.
"They pull me back from near to the door and push me down on the ground. They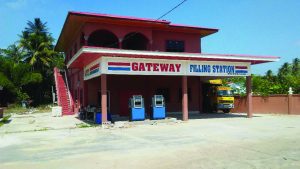 ask me for the money and I told them that we don't have money."
She said one of the men pulled off the rings she had on her fingers and attempted to cut her ear to remove a pair of earrings.
"The earrings hard to come off, so I ask him not to cut my ear, that I will take them off," the still shaken rice farmer related. She said that the jewellery was worth in excess of $200,000. She added that the men went into the upper flat in search of money.
Meanwhile, the farmer's son and his friend were both beaten by two armed men, who were at the door. Her son was gun-butted to his head during the ordeal.
The friend suffered minor injuries while the farmer's son received injuries to the head and arms. Both were treated at the Mibicuri Hospital.
Haimchand, who was also treated at the same medical institution and discharged, said she also was kicked and lashed as the men asked her for the money.
She explained that two of them went to the upper flat and ransacked the three bedrooms.
"They tumble up all three bedrooms because they didn't know is where the money was. All the barrel dem empty out. All the time they asking fo me brother that come from the US, but he left a few minutes before to go to Skeldon," she said.
She said the men found $6 million, which was stashed in a plastic bag, and left.
She told Guyana Times that the money belonged to her brother, who had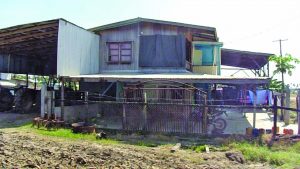 returned from the US and was building a gas station in Black Bush Polder.
"We went to the bank for the money and they did not give us all. I had to tell them that we had to pay for fuel and so they give us the money in two parts.
"When he collected the last set of money, he did not go to Guyoil Friday and then Monday he go and look after some other business and Monday night they come in on us."
Meanwhile, shortly after the bandits left, Haimchand telephoned her brother who was on his way to Skeldon and told him what happened.
According to her, at the time he was close to the Number 51 Police Station and stopped there to report the incident, but was told that he had to make the report at either the Mibicuri Police Station or the Whim Police Station.
The report was eventually made at the Mibicuri Police Station, but by then the gunmen had comfortably escaped. No arrests have been made as Police hunt for the robbers.