A lone bandit pounced on an elderly Corentyne, Berbice, woman in the wee hours of Wednesday leaving her injured and traumatised.
The incident occurred at about 04:30h at the woman's Lot 195 Third Street, Letter Kenny, Corentyne, home.
Guyana Times understands that the victim, 62-year-old Jasmattie Jagdat lives with her husband but at the time of the robbery, he was out fishing. Jagdat had gone into the yard to pick flowers for her morning prayer offering when she was attacked.
The elderly woman told reporters that after she was done getting the flowers, she was heading back inside the house when the perpetrator pounced on her and began to choke her.
"He choke me…he tell me that he come fuh kill me and I started to fight back but he hand on meh neck and the other on meh face. But after I was putting up a fight,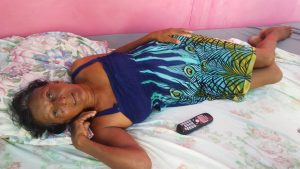 he throw meh down to the ground," Jagdat recalled.
According to the woman, she sustained bruises to her knees and her arms as a result of the fall. Jagdat went on to recount that she begged her attacker not to kill her, saying she will give him all the valuables she had in the house.
"He said "alright, bring the money", so I (tried to) get up and but I couldn't, my head started to swing and I fall again. Then he hold me up so I could go for the money inside. I had $15,000 in a purse and I give him, and he run out and gone," the elderly woman related.
Afterwards, Jagdat said she collapsed in her kitchen and regained consciousness about an hour later. "When meh catch meself, meh creep and go outside," she said. The woman got into her hammock and remained there until her husband returned home and then related to him what had transpired.
She was taken to seek medical attention and then a report was made to the Police.
When Guyana Times visited the woman, she was still traumatised and in pain. No arrests have been made so far but investigations are ongoing.