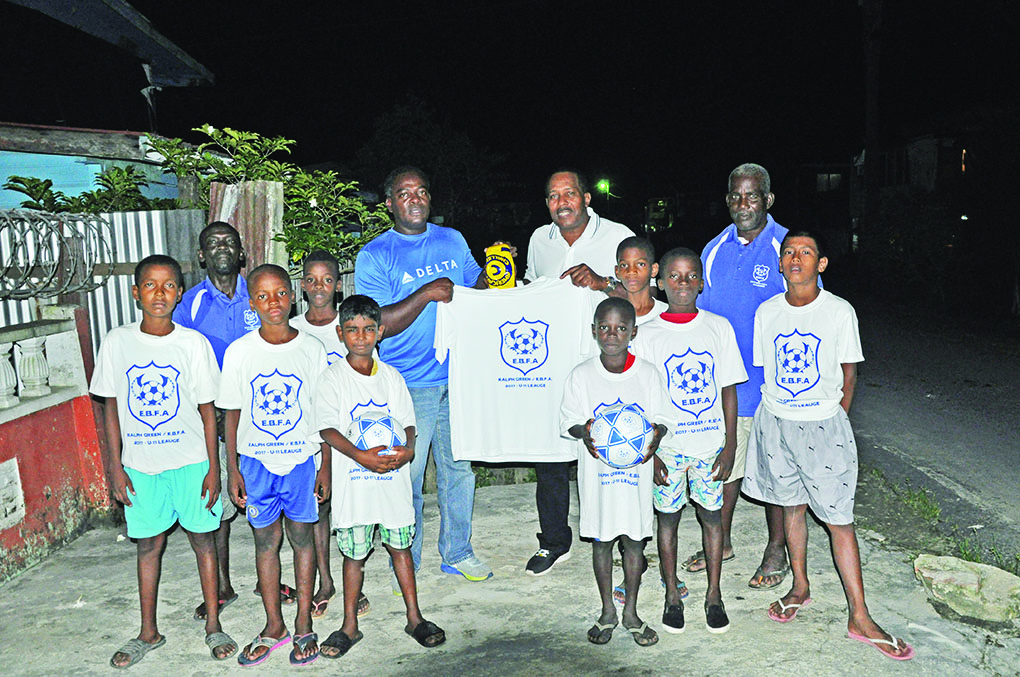 EBFA/Ralph Green U-11 League
‒
competition to kick off shortly
Sponsor of the East Bank Football Association's (EBFA) U-11 League, USA based Guyanese Ralph Green recently presented branded jerseys to the association that will be handed over to the players and coaches of the 10 partcipating teams.
Green, who was on a short visit to Guyana was hoping to see the kick-off of the tournament but the current prolonged rainy season put paid to his wish as grounds on the East Bank have been rendered unplayable for the past two months and counting.
In handing over the jerseys to EBFA President Franklin Wilson, Green said that he was eager to see the players in action but is hoping to be back during the competition or for the conclusion to enjoy the youngsters in action.
He noted his pleasure in continuing to support grassroots development of the game on the East Bank and has promised to continue to work closely with the association to make the tournament a continued success where players will look forward to being a part of, annually.
Apart from the players and coaches jerseys, a set of polo jerseys, also branded were presented to the EBFA Executive. The competition when it gets started will see association branded balls being used.
Thirty-four numbered playing vests, one first aid kit, two captains arm bands, five back-packs and 74 medals (first to fourth placed teams) were also donated by Green.
Only Players born on or after January 1st, 2006 will be eligible to participate in the tournament.
Agricola Red Triangle are the inaugural champions and will be going all out to retain the crown but will have to contend with nine other teams. Craig Primary placed second last year with Grove Hi Tech third and Friendship All Stars, fourth.
Agricola's Floyd Boyce was the MVP of the League, he also finished as the joint top goal scorer with Grove's Tyrese Jones. Agricola also won the best goalkeeper trophy which went to Adam Wilson. The Most Improved Player award was presented to Joshua Moore of Craig Primary while Shavi Atkinson of Friendship All Stars was adjudged the Most Promising Player.