By Brandon Corlette at Leonora
Guyana Harpy Eagles players have shown significant improvement on the Yo-Yo test, which was conducted at the Leonora Track and Field Centre on the West Coast of Demerara.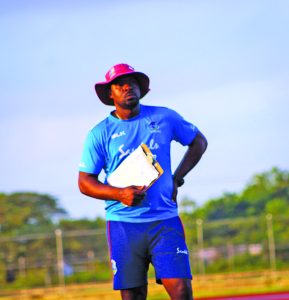 The players are in full preparation mode for the restart of Cricket West Indies' Regional Four-Day Championships in Trinidad and Tobago from May 18. Speaking exclusively to this daily publication, Guyana Harpy Eagles Head Coach Esuan Crandon said he is pleased with the players' fitness level.
"I think we would have made some small strides from the period during the break after the first two rounds. When you look at the scores, we saw a lot of improvements, because we would have put in a lot of work during that period until up to this week. So, I am pleased with the results overall. We have seen a higher percentage of improvement throughout," he said.
"Every single player, we did not have any player that regressed from the last time, we had about two players that did the same, they did not improve, but everyone else would have improved. Out of 28 players who took part in the assessment, I am pleased with that, it is a work in progress, and it goes to show (that) once the work is done, you will get the results you want to achieve," Crandon said.
Guyana will be playing defending champions Barbados Pride from May 18 at Queen's Park Oval, but before that big clash, two practice matches will be played before departure.
"We are very close to competition, so obviously we want to fine-tune preparations in terms of the guys' mental capacity to compete under pressure, to be clear as to their roles, and work within the guideline of the team objective, what we are looking to achieve, and ensure that the role is define within that objective."
Crandon added: "It is about maximising the next two weeks. We are looking to have two practice games, and it is a good yardstick to gauge our progress from our first two games in the competition. We have three games to go, so I am hoping to see better decision-making from a batting perspective, I want to see guys bat for longer periods, and show more fight and determination. Be disciplined, and make better decisions, and willing to fight out tough periods. That is what Test cricket, or first-class cricket, calls for."
Cricket West Indies minimum mark for the Yo-Yo test is level 40, while Ramnaresh Sarwan, who is now a selector for the West Indies senior team, has said Guyana minimum fitness standard would be 45. Sarwan had made this disclosure unofficially, when he was the lead selector for Guyana Senior Team. The Harpy Eagles will restart the tournament in fourth position, with 21.4 points under their belts.