On the eve of today's kick-off of the KFC Goodwill Football tournament, stakeholders who are making The Petra Organization's vision a reality gathered to have a final interaction.
At a press conference held after that interaction, Co-Director of Petra, Troy Mendonca, shared his expectations for this year's competition.
"We also think that a tournament of this nature (does) well for our school programme and football on the whole: for us to measure where we're at; compare and see areas where we can improve, and have an idea of where to go in terms of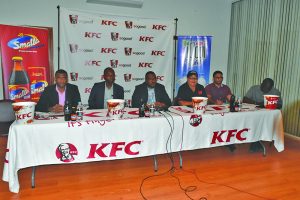 our development programme," Mendonca explained.
Four teams will be involved in three days of gruelling action when the KFC Goodwill tournament is kicked off at the Ministry of Education Ground from 5pm today.
Mendonca, in sharing his hopes for the future of this Goodwill tournament, hinted at inclusion of other regional teams.
"We hope to make this an annual event. We hope that, come next year and the other years, we see this tournament develop from strength to strength. Hopefully, come next year, we're able to invite another country. We hope that we (can) put together a select squad along with the first and second, and we will continue to extend an invitation to the champion team in the Rupununi region."
The tournament's sponsors: KFC; ANSA McAL, under their Smalta and iCool water brands; and Caribbean Airlines, all expressed hope that the tournament would be successful and beneficial to the participants.
KFC's Wendy Fernandes also shared the company's expectations for the tournament, whilst pledging its continued commitment to the competition.
"KFC, in our commitment to sport and developing our Guyanese reputation as producing world-class champions, has invested substantially to make the event the most successful. We are confident that the series of matches will be an exciting exhibition of skills and competition that will result in a thrilling experience for all football fans," she said.
ANSA McAL's Errol Nelson also declared that company's continued commitment to the sport. "I would like to let the members of the football fraternity know that for many years ANSA McAL has supported the development of football in Guyana, and…rest assured…we will continue to be heavily involved for many more years to come," he explained.
Caribbean Airlines' representative, Dion Inniss, highlighted the possibility of including other regional teams in staging this tournament in years to come.
"I think when we look back in future we can safely say this Goodwill tournament will be the beginning of a regional school tournament, and The Petra Organisation would obviously have to take credit for that. And if that's the case, Caribbean Airlines would obviously be shouldering with you to ensure that it's a reality," he declared.
A representative each from Annai and Annandale Secondary schools was present, and both young men expressed excitement at being a part of the impending tournament.
"I'm very happy to know that my team placed first in the Guyoil tournament, and have been promoted to this tournament. I'd like to say thanks to the coach and organisers. I'm happy that we're coming against the top teams to showcase our talents and play very competitive football," Jerome Harrigon of Annandale Secondary said.
Orville Daniels of Annai Secondary noted that his team members have their sights set on winning.
"I'm happy to be here as the captain. I know we travelled a far distance, and we'll do our best in this tournament. Hopefully, after all three games, (we'd have done) our best to win," he declared.
On the first day of play, today, the visiting Shiva Boys will take on Annai Secondary at 5pm, while Christianburg-Wismar will take on Annandale Secondary at 7pm. The second day of competition (December 18) will see Christianburg-Wismar battling Annai at 5pm, and Shiva Boys coming up against Annandale Secondary at 7pm.
The final day of KFC Goodwill action will be on Saturday, December 22, when Annai Secondary will face off with Annandale Secondary, while Shiva Boys engage Linden's Christianburg-Wismar Secondary.