–Guardians beat Kobras to take third place
The Rainforest Water/Malta Supreme/ Georgetown Amateur Basketball Association (GABA) League culminated its First Division leg of the tournament on Thursday night with the Ravens sinking the Pacesetters by eight points to claim the championship.
Ravens looked confident on the court with a good season's performance in the bag, having won seven of their eight games in the preliminary stages compared to the Pacesetters' winning six games; and they expectedly closed it out in the final-four showdown by romping to a convincing 83-75 win over their opposition at the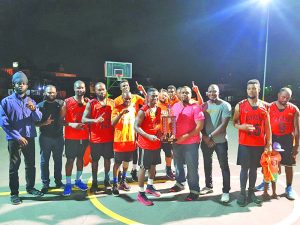 final buzzer.
The match was a see-saw battle in the opening quarter, with scores being level at 19 going into the second quarter. Both teams looked for consistent scoring to try take the lead, but the eventual victors got acclimatised and thereafter asserted their dominance. At the half, Ravens were leading 42-31.
It was more of the same in the third quarter, with Ravens comfortably outscoring the Pacesetters 25-14, which saw the final quarter starting at 67- 45.
Sensing victory in the air, Ravens eased off the gas pedal and held their form to complete the win.
Third place playoff saw the Guardians defeating the Kobras 68-60.
Ravens now joins the list of division victors for the 2018 edition of the tournament, following the UG Trojans' triumph in the Under 23 division and the Guardians' winning the title in the Second Division league.