– Agri Minister, other senior officials to receive report
BY SHEMUEL FANFAIR
One day after reports surfaced highlighting the deaths of over 1000 cattle following flooding in Cookrite Savannah, Region Six (East Berbice-Corentyne), Prime Minister Moses Nagamootoo and the Civil Defence Commission (CDC) led a team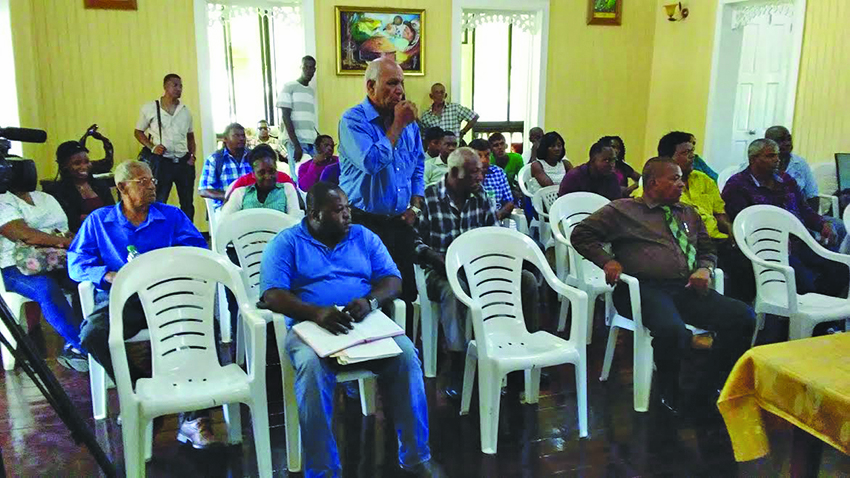 to assess the flood-affected communities. This was disclosed by Agriculture Minister Noel Holder in an interview with Guyana Times on Wednesday.
This newspaper had visited the Savannah and carcases of cattle were seen in varying stages of decomposition, where farmers pegged the daily death toll at more than 20. They explained that their animals had little or no food to eat as the unpleasant aroma of rotting flesh permeated. About 40 farmers occupy Cookrite Savannah, which is situated between the four polders – Johanna, Mibicuri, Yakasary and Lesbeholden. There are about 7000 heads of cattle along with sheep, goat and horses. The farmers reported that so far, more that 1000 heads of cattle have died and close to 20 horses.
Alarmed by the report, the multistakeholder team departed Georgetown in the mid-afternoon hours via helicopter to assess the unfolding situation in Berbice. To this end, Minister Holder noted that an engineer from his Ministry's National Drainage and Irrigation Authority (NDIA) sub-agency was part of the assessment team.
"An engineer from NDIA has gone in with the Civil Defence Commission and they are going to give a report about what's going on so I am waiting to hear from them," Minister Holder explained late Wednesday afternoon.
Meanwhile, the CDC has to brief the Prime Minister in addition to Minister of State Joseph Harmon on the day's assessment.
According to information relayed to Guyana Times, water from the Cookrite Savannah normally drains into the Canje River. Reports, however, indicate that water from the Savannah is now prevented from draining into the Canje River because the water level in the river is too high. More alarmingly, water from the Canje is said to be currently pouring into the Cookrite Savannah, flooding farm lands.
This newspaper was told that operatives of the NDIA are slated to pull water from the Canje into the Berbice River which is likely to ease the pressure on the Canje River. Agriculture Minister Holder stressed that this is being done since this section of Berbice does not have a conservancy water storage system.
"It uses the Canje to irrigate Skeldon, Albion, Rose Hall, Black Bush Polder. They pump from the Canje into these areas for irrigation purposes and when the Canje flows over, they pull water from the Torani Canal which links the Berbice River with the Canje," Holder noted.
On Tuesday, Guyana Times highlighted that more than 1000 acres of land were under, with water at chest-high levels in some parts. Farmer Peter Crawford, who has 600 heads of cattle in the Savannah, had pointed out that 150 have died. Another farmer, Nico Greene, who owns 200 heads, had noted that 50 of his animals were missing while his brother, Compton Greene, who owns 400 heads of cattle, told this publication on Tuesday that he lost 10 horses and 60 cows as a result of the floodwaters.
Another farmer, Seenarine Deonarine, said he lost about 100 of his 700 cows while Sultan Munroe reported that close to 200 of his 500 cows had died. Meanwhile, female farmer Raberta LaRose reported that she lost 300 heads of cattle and about 100 sheep. She noted that efforts had been made to get her animals to dry land, risking the chance that they will be impounded. It was further explained that other cattle farmers were also doing the same. However, many of them said they can only bring out a small portion of their animals. Lucy Monroe, another female farmer, already lost about 15 of her 100 heads of cattle. The farmers told this newspaper that only one of the three sluice doors was being operated at Adventure while the pumps at Eversham and Number 43 Village are not being put into operation.
It is expected that senior Government officials, including the Agricultural Minister will go through the flood assessment report sometime today.
No impounding of animals
Meanwhile, the Police have been ordered to ensure that no animal will be impounded during this period. However, Nagamootoo warned the animal owners to pay attention to the safety of humans.
"When you make a decision to tell the stray catchers that they cannot impound, you have to think whether people's lives will be put in danger… you can't have your animals on the road during the day and then at night they use it as a warm bed and then you endanger people using the roads with their vehicles, so you need to cooperate with us," Nagamootoo told the farmers.
Meanwhile, the farmers had said that they were not getting the needed assistance since some of the pumps along the Corentyne were not operable. Region Chairman David Armogan had told the media that the region's budgetary allocations for fuel had been cut in the National Budget.
However, Minister within the Finance Ministry, Jaipaul Sharma, said even if that was the case, the region was not short of funding to purchase fuel.
"Under agriculture for fuel and lubricants, the amount of $270.5 million was budgeted. If the Chairman is saying that it was cut by half then that figure has to be multiplied by two… I was expecting that if he was going to make statements like that, that there was no money….to date what has spent is only $48.7 million of what was budgeted for agriculture. So under agriculture, there is $223 million. So you don't need the Minister of Finance to provide funding for fuel, there is money in the budget," Minister Sharma said. Meanwhile, farmers at Butcher canal along the Canje River have also complained of the overtopping of the Canje River resulting in five feet of flood waters and the loss of scores of animals.
At Barakara, a village situated along the Canje River, flood waters have also resulted in the loss of livestock. Regional Executive Officer of Region Six, Kim Williams-Stephen reported that several persons have been affected by waterborne diseases. (Additional reporting by Andrew Carmichael)