– Best of the Best Martial Arts Championships
Martial Artists from the Guyana Police Force and Harpy Eagle Club impressed on Sunday when they competed at the National Gymnasium in the Best of the Best Martial Arts Championships.
Harpy Eagles and Police made a joint entry into the event and walked away with 20 accolades; 13 gold, five silver, a bronze and an overall first place trophy. Martial Artists' from the former captured seven gold, four silver and a bronze while representatives from the latter won six gold, one silver and the overall first place in the grabbling division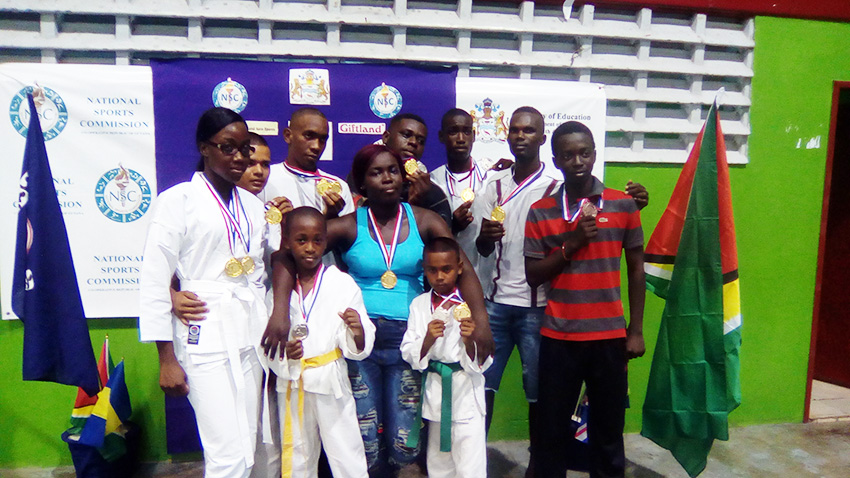 Among the outstanding performers for Police was Shenese Bobb, Guyana's first Mixed Martial Art Champion. She won two gold medals in sparring and self defence.
Ijah Cave from Police matched Bobb's efforts with top honours in sparring and grabbling while Trevlon Clarke won gold in sparring and silver in grabbling. Kevin Delacruz was also at the summit in sparring.
Meanwhile, the top performers for Harpy Eagle were; Akil St. Hill, who was the best participant from the two entities with gold in sparring, gold in kata and silver in weapon usage. Mark Zaman, secured the top place in weapon use and silver in kata while Venita McDonald secured gold in sparring.
Rayson Gill took gold in kata and Jamal Benjamin gold in weapon use and silver in open form. Ephraim Mingo secured silver in kata and Shemar Stephens bronze in kata.