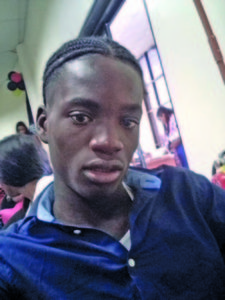 Ranks of the Guyana Police Force (GPF) have intensified their hunt for two suspects who are wanted in connection with the murder of 18-year-old Adrian Purlette of East Ruimveldt, Georgetown.
Regional Commander Simon McBean told Guyana Times that two of the teen's murderers are yet to be apprehended but the police are doing everything to track them down.
Following Purlette's murder, one teenager was arrested and charged with the heinous crime. It is almost one month since the incident took place and the others who were implicated in the murder are still on the run.
On October 21, Purlette was stabbed during an argument over money at D'Urban Street, Lodge, Georgetown. He, however, died on October 22.
It was reported that the now dead teen was visiting a friend's house at Hoopie Lane, between D'Urban and Hadfield Streets, Georgetown, when three men turned up at the location and demanded money from him.
The dead teen reportedly told them that he had no money but his angered the men and a heated confrontation ensued.
Police reports said that as the teenager was leaving the area, the men followed him, during which he was dealt several stabs to his body.
The injured teen was found by a friend, who heard him calling out for assistance. He was found lying in a pool of blood and was picked up and taken to the Georgetown Public Hospital where he later succumbed to his injuries.