Wedding house fatal brawl
The Guyana Police Force has issued a wanted bulletin for 20-year-old Errol Thapordeen also called "Buffy", "Bowie" and "Powie" for questioning in connection with the murder of Rudendra Persaud.
The last known address of the suspect was given as Lot 319 Enterprise, ECD.
Persaud died hours after he was beaten by a group of men at a wedding house on Saturday evening at Non Pariel, East Coast Demerara.
It was reported that the 26-year-old victim also called "Bayo" of Enmore, ECD, was lashed to the head by members of a gang who allegedly invaded the wedding house.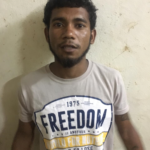 Police stated that the now dead man and his family were at his cousin's wedding at Non Pariel on the night in question when a group of young men invaded the property and attacked the invitees.
However, upon realising what was happening, Persaud went to intervene but instead, he was dealt one blow to the head with a piece of wood.
Despite being injured, the young man managed to protect his family members but later collapsed. He was picked up and taken to the GPHC where he was admitted but subsequently succumbed to his injuries.
Guyana Times understands that one member of the gang was taken into custody and he is assisting with the investigations. The police are on the hunt for two others.
Meanwhile, anyone with information that may lead to the arrest of Thapordeen is asked to contact the police on telephone numbers 226-6978, 225-8196, 226-2870, 911 or the nearest police station.
All information will be treated with the strictest confidence.