Body found at Hadfield Street \
As investigations continue into the death of 43-year-old Richard Fresco also called "Foots" of Lot 23 East La Penitence, Georgetown, the detectives are reportedly hunting a female suspect with whom the now dead man had an argument.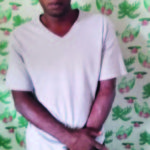 Freso was found with a stab wound in the vicinity of his heart between Leopold and Hadfield Streets on Monday.
Based on information reaching Guyana Times, the victim was stabbed by a female who accused him of having an affair with her "woman". Reports received revealed that the stabbing happened around 02:00h but the body was discovered at about 03:40h.
It was reported that the dead man and a woman known as "Fat Girl", had an altercation over a woman she is in a relationship with that Freso was also seeing at the same time.
According to a source, "Fat Girl" asked Freso, "what you doing in this yard? I ain't ban you from this yard?"
Soon after, the woman reportedly called out to the now dead man in a friendly manner and as he approached her, she stabbed him in the region of the chest.
It was said that the two, (Freso and "Fat Girl"), would normally have heated exchanges of words, but on the day in question, it came to a tragic end.
Meanwhile, Police reports stated that the man was discovered by passersby in a motionless state, taken to the Georgetown Public Hospital and was pronounced dead.
Police, on the other hand, stated that the now dead man and an unidentified male were heard having a heated argument over money.
The victim was subsequently found lying next to a fence, after having been removed by persons unknown and placed on the eastern cross street with what appeared to be a stab wound to his upper right chest.
His body is presently at Lyken's Funeral Home awaiting a post-mortem.