…as Head of State leads massive clean-up exercise in Georgetown
President Dr Irfaan Ali on Saturday slammed persons for using the capital city as a dumping ground for garbage, signalling new approaches to make errant persons accountable for such actions.
The Head of State made this call as he led a massive clean-up exercise in Georgetown, with members of the Joint Services and Private Sector.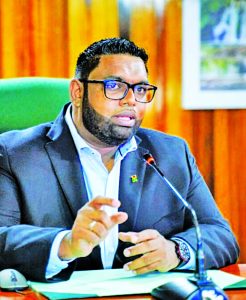 The two-day activity, dubbed "Operation Clean-Up", also saw Prime Minister, Brigadier (retired) Mark Phillips; Chief of Staff of the GDF, Brigadier Godfrey Bess, Police Commissioner Nigel Hoppie, Cabinet Members, members of the diplomatic community, Private Sector bodies and entities and representatives of civil society playing their part on site.
Ali, who is the Commander-in-Chief of the Armed Forces, said Police presence and surveillance cameras will be introduced at sites where people continuously dump garbage or deface the country.
No regard
Speaking on the prevalence of litterbugs, the President chided, "They have no regard for the environment, for each one of us that lives in this country, because it becomes a public health issue. It's time we start calling people out. While the Police will be out here, the Government will be working on cameras to be installed at specific locations because some of it is deliberate in action also."
Government initiated this initiative to ensure drastic changes are made to the capital city, to leave a better Guyana for the next generation.
"We all grew up seeing things that we want to change. Now, all Guyanese are actually part of the change that we want to see. This multistakeholder approach is to send a message that the responsibility resides in all of us to make a difference and we've started cleaning up the city itself," the President told media operatives.
Saturday's efforts saw the cleaning of illegal dumpsites, vacant lots being used for illegal dumping, transporting the garbage collected to landfills, and the weeding and raking of parapets.
Accumulated garbage along Sussex Street, West Front Road, Brickdam & High Street, Broad, and Saffon Streets, Cemetery Road, Hadfield Street, East La Penitence Market, High and Princes Streets, Campbellville, Newtown area, D'Urban and Smyth Streets were also on the radar. Members of the public have also been asked to join the activity, which continues today, as the reach will be expanded other locations based on the number of volunteers garnered.
Some 25 locations have been included in this first leg and it has already been announced that this is the "tip of the iceberg".
"What you're seeing here is just the tip of the iceberg. In our assessment, we have 25 sites like these; some of them in far worse condition that we have to clear this weekend. We have hundreds of trucks that were volunteered, heavy equipment. This is not just going to be a one-off exercise. The aim of this is to bring awareness. The second thing is to do the massive haul in charting the cleaning up of our country," Ali underscored.
Meanwhile, despite the horrible state the city was in with and City Hall neglecting its fiduciary duty to residents, the Mayor's call for boycotting the clean-up exercise was ignored.
Urban renewal
The Head of State had announced in his New Year's message that his Government intends to lead a national resurgence of sustained public cleanliness that promotes environmental health across the country. On Saturday, the Guyanese Leader committed to urban renewal through transformation of the city.
"The city of Georgetown is not a huge city. One of the beauties is that it is a walking city, which means you can walk easily and get your business done. But we have to walk in an environment that is safe, clean, conducive and that is what we will be creating."
Along with this approach is the intention of creating a family-oriented city and safe zone for the public.
Labelling it an ambitious target, they are aiming to create a walkway from Main Street, spanning beyond Vlissengen Road and through the embankment. A hub will also be created where the train station was.
"We will be restoring that area and that area will be used like a Guyana breakfast shed and we will be working to convert the wooden building, restore it and convert it into an art gallery where our artists not only exhibit their pieces, but sell their pieces and that will be linked to a beautiful walkway, well planted and secured along the Lamaha embankment. Then Durey Lane and a number of other areas we have identified, the seawall project is ongoing, the medians all the way down the East Coast where the median is, with overgrown grass, we're going to modernise those medians."
Ali added, "So it's starting to build a new culture in the way we approach the environment, the way we treat each other, and the environment is a demonstration of who we are. The environment is a demonstration as to how we value each other because if you can bring garbage and throw it in front of a school, in front of a church, in front of a named street, like Hadfield Street, a national monument, then it demonstrates who really you are and this is what we have to change and we can only do this together."
To sustain a clean city, it was proposed that such efforts can materialise periodically through national action. The local democratic organs would also be involved.
"When we talk about countries that we admire, and the way in which they do things, these are examples as to how they built a new culture, how they incorporate these, sometimes what seems to be softer side of things, into the culture of the country. So maybe cleaning up is a soft exercise but it is an exercise with critical impact on the way we live, and who we are as a society." (G12)