…about "chase them out", alleged "jackass" statements
…recording reveals Jagdeo said "Judas" not "jackass"
Police ranks from the Criminal Investigation Department (CID) headquarters on Wednesday turned up at the Office of the Opposition Leader, after Bharrat Jagdeo returned from his overseas trip.
While he was not arrested, he was questioned about statements allegedly delivered at Babu Jaan and directed to President Granger and PM Nagamootoo. This would presumably mean that the two high officials had to have filed a complaint against Jagdeo, thus giving credibility to claims that Police action against the opposition leader was politically directed.
During an annual memorial service March 10, 2019 at Babu Jaan for former President and founding member of the People's Progressive Party (PPP) Dr Cheddi Jagan in Port Mourant, Corentyne, Jagdeo called upon all Guyanese to reject the coalition Government, including President David Granger and Prime Minister Moses Nagamootoo after March 21, 2019, "by chasing them out" since that was the time according to the Constitution that they would have been illegally occupying office if an election was not held.
A complaint was subsequently filed against the Opposition Leader and as such, the two CID ranks turned up at this Church Street, Georgetown office to question him about his utterances.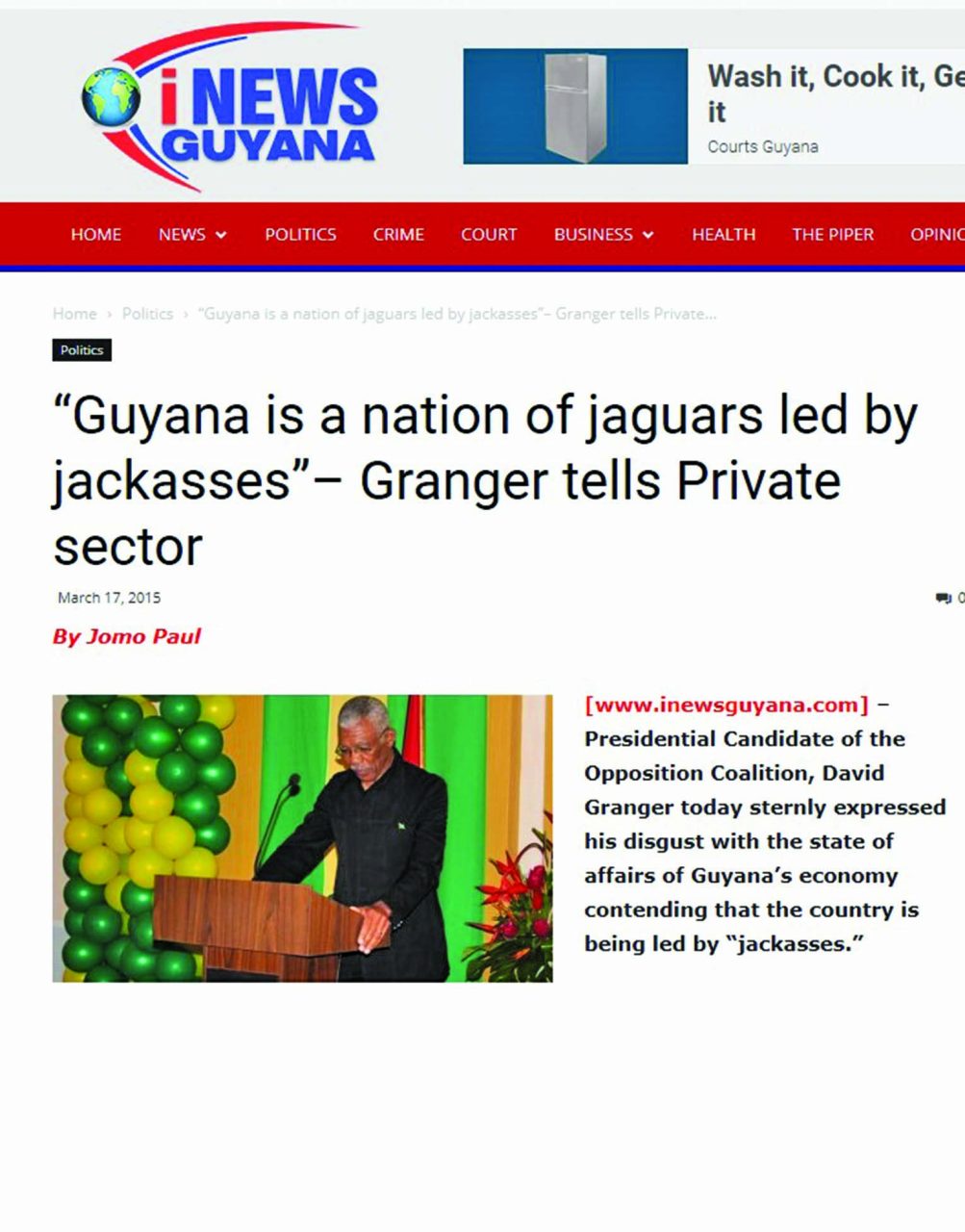 "Basically I'm here to solicit from you any reply… as it relates to [your] March 10th visit to Port Mourant," former Deputy Crime Chief, Hugh Jessemy informed Jagdeo during the highly publicised visit.
Jessemy had previously retired from the Force back in 2017, but a few months later, in 2018, was rehired to head the Cold Case Unit within the CID headquarters.
Nevertheless, during Wednesday's visit to the Opposition Leader, Jessemy, who was accompanied by Assistant Superintendent of Police Cameron, informed Jagdeo that on the day and at the location in question, he told persons gathered there that "…if the President, Mr Granger, and Mr Nagamootoo; if they come to chase them 'cause they illegal, that's one. And two, you called the President and Mr Moses Nagamootoo and one, Mr (Sydney) Allicock, jackasses. So it's fair enough if you want to explain; these are the two things I actually (came) here about".
Jessemy indicated to Jagdeo that he can reply in whatever means he chooses, that is, oral or written.
Jagdeo, who is also the General Secretary of the PPP, informed the ranks that he had strong justification for the statements made and offered to submit his explanations in a written statement.
"I'm tempted to give you an explanation because I do believe that there are strong justifications for everything that I said. But I will prefer to just give you a written statement," Jagdeo said, while adding "…Had it not been a legal matter, I would have justified every single word that I uttered there at Babu Jaan".
At the time of Wednesday's brief questioning, Jagdeo was accompanied by his lawyers, former Attorney General Anil Nandlall and Attorney Sanjeev Datadin along with other party members including Presidential Candidate Irfaan Ali, former President and Prime Minister Samuel Hinds and Priya Manickchand, among others.
On Tuesday, the PPP accused the Guyana Police Force of taking political instruction from the Government to arrest the Opposition Leader upon his return from the United States.
In a statement, the party said that the police has been instructed by Congress Place and the Office of the President to arrest, detain and charge the Opposition Leader with criminal offence(s) under the Racial Hostility Act, Chapter 23:01, Laws of Guyana, for wilfully inciting or attempting to incite racial hostility in relation his speech at Babu Jaan last month.
However, in a subsequent statement, the Police Force denied taking "political instruction". Moreover, the Ministry of Presidency also said that no such instruction was issued by the Head of State, any Minister of Government or any Government official to instruct the Guyana Police Force to arrest the Opposition Leader.
But even as the police are probing the complaint filed by APNU Member of Parliament (MP), Barbara Pilgrim, who replaced former AFC MP Charrandas Persaud, a review of Jagdeo's remarks at Babu Jaan last month revealed that he did mention the President, Prime Minister and Minister Allicock but did not call them "jackasses" as is being alleged. In fact, he called them "Judases".
"Government, in the guise of Nagamootoo, on a day when they were celebrating the Rose Hall Martyr's Day, they sent him to bring the sad news to that community that they were gonna close the Estate as they did elsewhere. Who is the Judas? Who are the bigger Judases in Guyana? They've betrayed all of the people of the country," Jagdeo had stated.
He further noted "It's a Government of Judases because they promise the Amerindians to accelerate land titles and they failed them. So Sydney Allicock is a Judas too. And they promised to bring jobs in Linden and many parts of the country so Granger is a Judas too. All of them are Judases".
On the contrary, however, Inews had reported in 2015 of President Granger, when he was the Opposition Leader, saying "Guyana is a nation of jaguars led by jackasses".
The article which was published by Inews on March 17, 2015, stated that Granger made the comment while delivering the feature address at the Guyana Manufacturing Services Association (GMSA) luncheon at the Pegasus International Hotel.