Close to two months after a miner set a dredge owner and his wife on fire in their mining camp at Toroparo Landing, Region Seven (Cuyuni-Mazaruni), the Police are yet to arrest the main perpetrator.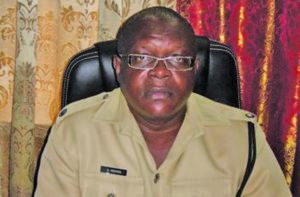 Lyndon Joseph of Karrau Village, Region Seven and his reputed Brazilian wife Maria Pereira Da Silva were reportedly sleeping when they were doused with gasoline and set alight.
After spending some time in hospital, 30-year-old Da Silva succumbed to her injuries on September 26 while receiving attention. Joseph, however, remains a patient at the Georgetown Public Hospital.
Divisional Commander Kevin Adonis, when contacted, told Guyana Times on Thursday that the Police have intensified their search for the suspect so that he can be brought to justice.
He stated that since the act was committed in August, the suspect was not seen, nor did he make contact with any relatives.
The couple had been allegedly set on fire following a confrontation with a man at their camp around 04:00h on August 29.
They were both rushed to the Bartica Hospital and subsequently medevaced to the city. Hours before the incident took place, the couple were at a function when they were informed that someone had invaded their camp.
As a result, they immediately left for the camp and upon arrival, they saw a male individual there and an argument ensued between them and the suspect.
He is said to have subsequently left and Da Silva and Joseph retired to bed but were awakened by intense heat as their camp was set on fire moments later.
The incident occurred at Toroparo Landing, Region Seven. At the time, the Police had said that the couple received burns to 80% of their bodies.