Children of Albion Sugar Estate employees, who performed exceptionally at the recent National Grade Six Assessment (NGSA), on Thursday received bursaries in the tune of $960,000.
The awards were presented to 24 students at the Estate's Training Centre. The bursary awardees were each given the sum of $6000, and are entitled to an additional $1000 each year for the next five years. This is, however, dependent on their "satisfactory attendance and performance" in school.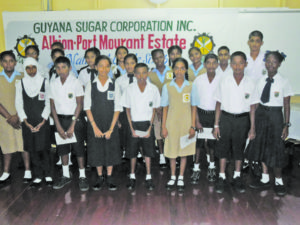 Both the parents and awardees expressed thanks to the Estate for the monetary rewards. The bursary awardees were: Chitra Ramdial, Sangeeta Jaundoo, Alisyah Mahadeo, Meera Mahabir, Shivnane Mahadeo, Maira Chinapen, Niall Phagoo, Jason Welaidum, Netram Ramnauth, Mahesh Ramnarine, Anna Balraj, Pravena Pancham, Tansanya Hooper, Safrana Yunas, Dinesh Ishmael, Shania Ramkishun, Ziyad Birbal, Malachi Chung, Sahana Lallman, Nyesha Graham, Leon Sarju, Feisha Chintyomby, Gavin Seepersaud and Amrita Dhaniram.