Traffic Chief Linden Isles has revealed that officers are monitoring CCTV cameras across the country for various traffic offences.
In fact, a number of persons have already been arrested and are likely to be soon charged, he told a civil society-organised public forum on road safety.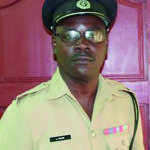 "We brought them in, showed them the video and showed them the vehicle and then we put them on bail to go to court," the Traffic Chief outlined during the activity on Wednesday last.
In addition to the CCTV cameras, he disclosed that officers have been monitoring social media pages for civilian videos of road users operating recklessly.
To date, many persons captured on video operating in a manner dangerous to the public have been tracked down and charged.
Isles said these are all measures being undertaken by the Traffic Department of the Guyana Police Force (GPF) to ensure the roadways become safer.
"If we find that persons are posting these videos and we are taking action, it means that at some point in time we will have a reduction in persons using our roads in the manner that they are doing," the Traffic Chief explained.
In 2019, there were 108 fatal accidents from which 129 persons lost their lives. This is an increase from 2018, where there were 105 fatal accidents from which 119 persons died.
The underlying reason behind this constant increase in road fatalities remain speeding and driving under the influence of alcohol, police statistics show.
In fact, this alarming increase in road fatalities triggered Wednesday's public forum which was organised by a group of concerned citizens.
Among the participants were representatives of civil society as well as the minibus unions.
Rawle Small, who gave a presentation at the beginning of the event, highlighted that one of the issues to be addressed to make the roads safer is that of congestion.
He made reference to the stretch of road at Grove on the East Bank of Demerara (EBD).
"On that particular stretch of road, you have a number of businesses just on the roadside, you have trucks, you have minibuses, you have bicycles, you have pedestrians, you have motorcycles using that narrow strip of road and having to navigate that," Small explained, noting that there are also animals roaming the highway.
Another issue, he said, is the seeming carelessness of some drivers.
"I have observed on a number of occasions persons just driving wildly around a blind spot. You aren't able to see what's coming from the other lane, there could be a truck in front of you but you just come out fast and drive into that," he pointed out, arguing that "we have to change the norm of violent driving."
He lamented that, many times, vehicular users do not even stop for pedestrians who are waiting to cross at a pedestrian crossing.
Members from the audience, in giving their feedback, suggested that there be stiffer penalties for errant road users.