6 weeks later
Teen kidnapped, beaten by cops unable to work
It has been six weeks since 17-year-old Ashkay Budhairam was severely beaten after being kidnapped by two constables attached to the Guyana Police Force (GPF). Presently, his mother is decrying their economic hardship after he has been unable to return to work.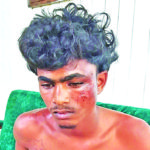 Budhairam would have turned up to work recently but opted to return home, owing to the excruciating pain to his abdomen.
Speaking with Guyana Times on Saturday, his mother, Seetadai Luj, explained that the young lad was employed in the construction field and would provide an income to support his siblings' schooling and other needs. However, they have been experiencing grave economic difficulty after this unfortunate event since he has not been able to work.
"My son cannot work. He went to work a day and had to return back home. He does work with a contractor to do whatever work they have. Since then, his chest hurting and he can't really do anything. It's affecting we because he does assist me and I have other little ones to go to school. Their father went away so he does help out," she shared.
His relatives are especially worried about the permanent injuries which may have occurred.
Budhairam, of Westminster, West Bank Demerara (WBD), believed he managed to save his own life, after enduring six hours of torture and then jumping out of a moving car to escape his captors. Two law enforcement officers were taken into custody for the alleged beating and torturing of the 17-year-old.
Shortly after the incident, he recalled being in the company of a few friends in nearby village Schoonord, when eight unknown men showed up with weapons in two cars. They proceeded to attack his friends until he was snatched and put in the trunk of one of the vehicles in an unconscious state.
After driving for some distance, the young man had told this publication, he was taken to a house in the same vicinity. The two constables, who are brothers and occupy the said residence, alleged that Budhairam had stolen some items from their house. He was handcuffed to a bed and questioned about the missing items, to which he denied any involvement.
After that, he noted, a few of them proceeded to visit his house to search for the articles while the beating continued. But the teenager claimed that nothing was found at his residence. Water was then heated and thrown on the lad to which he started screaming.
He was doused for a second time with the hot substance. The injured teen told this publication that the men were fearful that neighbours might hear his screams and opted to put him back into the trunk.
"Them carry me to a house, reverse the car in the yard and carry me in the house. They handcuff me down to a bed frame and start beating me, beating me and asking how far them things deh. I tell them I didn't know anything. Them go and hot some water in a electric kettle and start throwing it on me. I started hollering and making noise."
He said that the car was moving for approximately 20 minutes and somehow, he managed to open the trunk and leapt out.
Last month, Isaiah and Daniel Bernard, both of 38th Street La Parfaite Harmonie, appeared at the Leonora Magistrate's Court and were charged with abduction and wounding. On April 23, the matter will resume in court.