Five Star Backdam killing
Justice James Bovell-Drakes, concluding the voir dire (trial within a trial) in the murder case in which Marlon Marion Freeman is accused of murdering miner Timothy Adams at Turtle Creek, Five Star Backdam, North West District (NWD) on December 22, 2013, called in the 12-member panel of jurors to hear the case as the main trial continued on Thursday.
When his case came up late last month, Freeman had denied that he was responsible for the murder of Timothy Adams, and the jury was subsequently empanelled to hear his case.
At Thursday's trial, Medex Colleen Edgillo testified that she had pronounced Adams 'dead before arrival at the Pakera Hospital' at Matthew's Ridge, NWD, where she had examined Adams's body and had found that he was lifeless and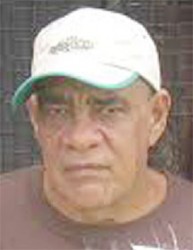 had no heartbeat. Edgillo told the court that she had seen a deep puncture wound to the right side of his neck and a laceration to the left side of his head.
Under cross-examination by Defence Counsel Folio Richards, the witness announced that she was unable to determine the time of death, but noted that, based on her experience, the laceration was consistent with blunt trauma.
Police Detective Collis Duke also took the stand, and related to the court that he had, with his Blackberry mobile phone, taken 16 photographs of the crime scene. However, the defence questioned why Duke had taken 4 years to print the said photos, having printed the exhibits earlier this year. And Duke could not say if it was standard procedure of the Police Force to so do.
Testifying earlier on in the trial, Duke had related that on the day in question he had travelled to Turtle Creek Road, where he had examined the area and found an all-terrain vehicle (ATV), CG 6335, facing north in a stationary position, and had observed the body of a male lying face down.
He had also said he later learnt that the deceased was named Timothy Adams, and had been a gold miner and dredge owner.
According to the Policeman, Adams had been wearing a jersey, brown three-quarter pants, and a pair of yellow slippers at the time of his demise.
Duke also recalled seeing on Adams a 10.3 cm wound, with what appeared to be blood oozing from it.
The late Timothy Adams had reportedly met his demise while en route to a mining camp.
State Counsels Lisa Cave and Mandell Moore are presenting the Prosecution's case.
The case continues before Justice James Bovell-Drakes.