– family seeking assistance in securing more funds to complete treatment
Three-year-old Crystal John of Amelia's Ward, Mackenzie, Linden, who was diagnosed with cancer of the retina, has departed Guyana for Cuba to undergo life-saving surgery.
John departed these shores on Tuesday, but her family is still seeking to raise more funds to offset expenses, since the initial target was not met. According to the toddler's mother, LaShawn Daniels, the family with the help of the Giving Hope Foundation, public-spirited citizens and organisations had managed to secure only part of the funds and as of Thursday, they were still awaiting financial assistance from the Public Health Ministry.
The family had initially sought to secure US$10,000, which included the cost for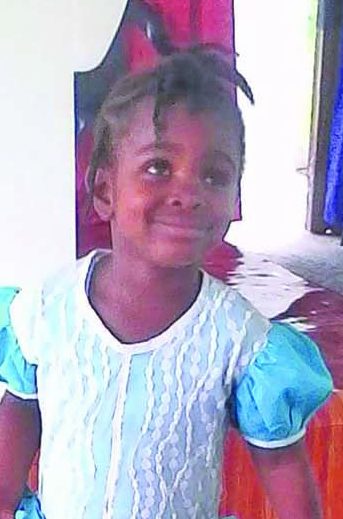 treatment, accommodation, transportation, and other costs. A number of organisations, including the Giving Hope Foundation Guyana and the Sar & B Nonprofit Foundation have since been on the quest to assist the family in raising the monies with the help of the public.
Linden Nurse Colwyn Allen had also organised a telethon on his radio programme "Healthy Living with Nurse Allen" in an effort to assist.
Speaking with Guyana Times, Daniels noted that they still needed half of the funds for the toddler's complete treatment, since they only managed to secure half. The family, she noted, was expected to send the remainder of the money.
"We have no idea where we're going to get it from," Daniels indicated.
Little Crystal was diagnosed with the life-threatening disease when she was just eight months old, resulting in the removal of one of her eyes. It has since spread to her other eye and she is currently unable to see. In an effort to save her life and prevent further spread, her remaining eye has to be removed.
As such, her parents, Ivan John and LaShawn Daniels, are seeking the assistance of the public and the Public Health Ministry, in an effort to urgently secure funds for her complete treatment in Cuba.  Donations can be made via Citizens Bank Account # 219-002-772 and GBTI Account # 001062730013.  A GoFundMe account has also been set up at GoFundMe: https://www.gofundme.com/crystals-johns-treatment. Her parents can be contacted on phone numbers 690-0866, 670-4337 or 687-7171, or interested persons can contact the Giving Hope Foundation on telephone number 227-6588.