…as more teachers graduate with Education Management Certificate
Another batch of teachers have graduated from the Education Management Certificate course (EMC) in Region Two (Pomeroon-Supenaam).
At the eleventh graduation and prize-giving ceremony at Anna Regina Secondary School (ARMS) on Essequibo Coast, master trainer Maydha Persaud said the training started in 2020.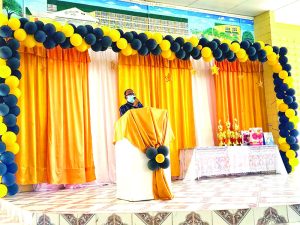 Persaud, a retired Head Master, said it has been recognised and agreed that one of the key factors influencing effectiveness is the nature and quality of the leadership and management provided by each school Head.
As such he told the gathering, including Heads of Departments (HOD), that the Head is said to be the heart of an institution and the leadership style of the individual is the heartbeat. He said an effective Head must instil in the staff that good teaching is about substance and treating schoolchildren as consumers of knowledge.
Persaud said the Education Ministry is providing enormous financial material and human resources, but in many cases, the output is far below what is expected.
According to Persaud, a survey was conducted to ascertain the poor performance in some schools and it found that one of the factors responsible is the leadership displayed by many Heads. Persaud added that it is against that backdrop the Education Ministry, through the National Centre for Educational Resource Development (NCERD), embarked on the Education Management Certificate course, in an attempt to improve school performance and meet the needs of children.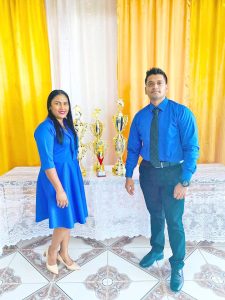 "The course was introduced to Guyana in 2000, as a joint effort of the Canadian International Development Agency (CIDA) and the Ministry of Education, started in Region Two as a pilot project. It is the brainchild of the Commonwealth of Learning and was first conducted in Kenya, Uganda, Botswana, Nigeria, and Zimbabwe, all in Africa." Persaud noted
Success of course
Speaking on the achievements of the course, Persaud mentioned that the management course was taken to Belize and then brought to Guyana.
"In 2000, it was piloted in Region Two for 30 head Teachers and the master trainers were from Guyana and Canada and the outcome was a resounding success… since 2003, the course has been undergone by school administrators in all 10 regions under the management of the NCERD Director and conducted by Regional Master Trainers," Persaud informed the graduands.
The trainer also noted that it is of 18 months duration and spawns five school terms and he said it is very beneficial, already resulting in improved school discipline and examination results. Persaud said the course qualification is also used for senior promotions and is given six points which are equal to that of a Certificate in Education at the University of Guyana (UG).
Delivering the charge to the certified graduates was the second-best graduating teacher, Sareena Seemangal. She charged the teachers to be good teachers and managers in their school system.
Vishnu Narine of Aurora Secondary School achieved the position of the best graduating teacher and as such received a number of trophies for his outstanding performance. Additionally, Sareena Seemangal copped the second position and is the best graduating teacher of Batch 9. She also received a number of trophies for her excellent performance.
Also in attendance at the ceremony were the Regional Chairperson Vilma De Silva, Regional Vice Chairman Humace Oodit, Regional Education Officer Nigel Richards, and the various District Education Officers. (G14)