Assuria Guyana General and Life Insurance Companies celebrated ten years of insurance service in Guyana with the opening of its newest location at Anna Regina, Region Two (Pomeroon-Supenaam).
The company's office is located in the bottom flat of the Builder's Hardware General Supplies and Construction store in the township of Anna Regina.
Assuria General and Life Insurance company began operations in Guyana in April 2012 and established its newest office in Essequibo to focus on new business and population growth in the region.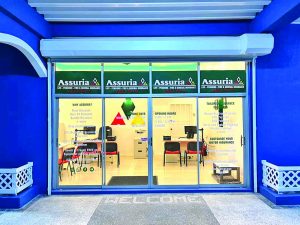 Assuria (GY) is a subsidiary of Assuria (NV), the largest insurance company in Suriname, and has been in business since 1889 when the Dutch insurance company established its first subsidiary in Suriname.
During an interview, Managing Director and General Manager Yogindra Arjune told this publication that the opening of the office in Essequibo fits the company's overall growth strategy to increase its market share and further stated that it will be advantageous for customers in the region to have easy access to the company's products and services.
He also said that the company was established in Georgetown on April 1, 2012, offering quality insurance products with value pricing. Assuria offers insurance packages in motor, fire, residential, life, health, travel, group, marine, liabilities, bonds, pension, tailored for all stakeholders, and in the oil and gas industry – backed with strong reinsurers support.
"Persons visiting or contacting our office can freely ask about our new AMER extension to protect themselves as a driver, they can find out about our ten for twelve and five for six motor insurance options and also new and more options for glass breakage protection. However, we value feedback from our supporters and customers, we listen to their needs and concerns and have been able to tailor special insurance packages to suit their needs such as our GTU plan for teachers and the serve and protect plan for members of the armed services," Arjune said.
He added that later in the year the company will be opening its brand-new head office in Georgetown, which will culminate its 10th anniversary celebrations.
Additionally, Assuria has recently launched its "Dream Realised Packages" in support of the Central Housing and Planning Authority. The package was launched in order to realise citizens' dream of owning their own home, by offering as much as a 50 per cent discount on residential insurance on a one-year premium. (G14)