The contracts are now set in stone, as professional boxing makes its grand return on Saturday, April 23, 2022, with the Guyana Fight Night: Road to Redemption event.
Organised by the Guyana Boxing Board of Control (GBBC), the event has received the support of the Culture, Youth and Sport Ministry, and by extension, the National Sports Commission (NSC), and is set for the Guyana National Stadium, Providence, East Bank Demerara (EBD).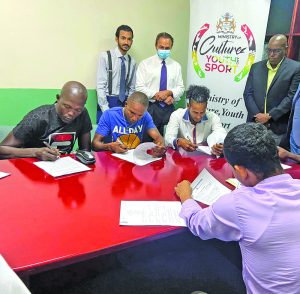 With just three weeks to go before the mixture of local, regional and international pugilists take the ring, the contracts were signed on Friday afternoon at GBBC President Peter Abdool's office (Abdool and Abdool, Georgetown).
The signing, however, did not come without the trading of threatening words between opponents, who have promised first-round knockouts, among other thrills, come April 23.
Guyanese internationally-ranked boxer Elton Dharry will headline the seven-fight card as he challenges Orlando Penalba of Panama for the World Boxing Council (WBC) International Super Flyweight Title. Dharry comes with a history of 25 wins, 6 losses, and a draw, while the undefeated Panamanian has 11 wins and a draw to his name.
Also set to trade punches with a Panamanian opponent is Guyana's Dexter "The Kid" Marques in the co-main event. Marques and Panama's Gilberto Pedroza will be locked in a flyweight bout.
In the accompanying bouts, Imran "Magic" Khan will battle Anthony Narine in a six-round middleweight contest while James Moore and James Walcott duke it out in a four-round light heavyweight encounter.
A junior middleweight bout is set to feature Quincy Gomes and Barbados's Charwin Estwick while debutants Richard James and Stephen D Silva have their go at each other. A late addition to the fight card, popular social media personality Laured Stewart will trade punches with Romeo Norville in a four- round light heavyweight bout.
Director of Sport, Steve Ninvalle, at the signing, lamented the long wait for professional boxing, but praised the way in which Abdool's GBBC opted to return.
"This is something that we eagerly jumped on: professional boxing has not been with us for a very long time and the Ministry and, by extension, the Government of Guyana, we see it fit to assist in this way," Ninvalle shared.
He continued, "We know from the track record and what Mr Abdool has said, we're in for a very exciting time. Guyana is opening up and we're opening up with a bang and this is just fitting that we'll be returning to professional boxing with such a card."
Turning his attention to the list of bouts, Ninvalle relished the inclusion of Guyana's Dharry.
"I myself, from way back, I know what to expect from Elton Dharry and him headlining this card says just how serious Mr Abdool and his entire team is about bringing back professional boxing to what we all know it was," the Director of Sport stated.
In his remarks, Abdool promised half-time entertainment featuring Guyana's artistes in a bid to show off the country's talent.
"We are going to try our best, within the context of boxing to highlight Guyana as best as we possibly can. I think it's about time the world had a good, hard look at us. So, in conjunction with the Ministry, we hope that boxing can be used as a vehicle to highlight our beautiful country," the GBBC President explained.