As Guyana undergoes an unprecedented economic transformation, the country has become more at risk for cyber threats – something which local port security officers were urged to be aware of.
Security threats posed to shipping and port facilities came into focus when the Shipping Association of Guyana (SAG), in collaboration with MATPAL Marine Institute, hosted a one-day Port Facility and Shipping Security Awareness training programme.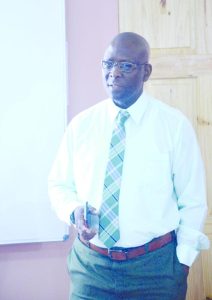 The programme was held last Tuesday at the Institute's Training Centre in Lamaha Gardens, Georgetown. The exercise saw participation from members of the SAG, and sought to bring port officers up-to-date with the various types of threats that are facing port and shipping facilities around the world.
Delivering remarks at the opening ceremony of the training, Chief Port Security Officer of Maritime Administration Department (MARAD), Major (retd.) Dwain Nurse, told participants that there are many serious threats that are prevalent at port and shipping facilities. He pointed out that cyber threat is one of the emerging risks to port security worldwide.
"Security risks are always new and emerging, the newest of them being cyber threats. We must be aware of those emerging threats, because while some might be around for a while, some of these threats might be new to your environment. It is our job to mitigate and minimise these dangers and threats," Major Nurse added.
He went on to encourage the port security officers to be aware of their environment, of their role, and what is expected of them.
MARAD is the designated local authority for the International Ship and Port Facility Security Code (ISPS). The ISPS code provides a framework through which ships and port facilities can cooperate to detect and deter acts which pose a threat to maritime security.
Heightened focus
Meanwhile, Chairman of the SAG, Philip Fernandes, said the course is timely and important at this time of heightened focus on Guyana.
"The security of our shipping terminals is not only the concern of the businesses in the industry, or the owners of cargo. It is of national importance that everyone plays a part to ensure the safety and integrity of our port facilities, to uphold the reputation of our country as a safe and secure destination," Fernandes noted.
On the other hand, Senior Lecturer of the MATAL Marine Institute, Ian Hutson, who conducted the training, outlined the various threats posed to shipping and port facilities. These include terrorism, piracy, stowaway, drug trafficking, sabotage, civil unrest, kidnapping, and human trafficking.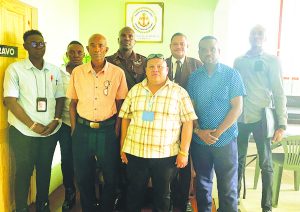 The participants also heard from Trustee of the Shipping Association, Andrew Astwood, during the one-day training programme.
The participants were Shane Kendell and Alton Sauers – Muneshwers Ltd; Colin Henry – Guyana National Shipping Corporation (GNSC); Tracy Miller and Onika Duncan – John Fernandes Ltd; Paul DeFreitas and Enroy Bobb – NAMILCO; Amechi Chiawa – Guyana National Industrial Company (GNIC), and Vidianand Sandhu.
The Shipping Association of Guyana (SAG) is a non-governmental organisation that serves as the advocate for the entire shipping industry in Guyana, representing ship owners, shipping agents, terminal operators, cargo haulers and transporters (road, air and river).
The Guyana Government, through MARAD, has been working on strengthening the local port security with the implementation of several initiatives, as well as through partnerships with bilateral partners.
Only in February 2022, 12 Guyanese received certification after participating in a workshop training exercise on good practices in port security. The venture was hosted remotely in October 2021 by the Embassy of Chile in Guyana and the Maritime Territory and Merchant Marine.
Security protocols
At the time, MARAD Director General Stephen Thomas had said the training would help to place Guyana in line with security protocols.
Meanwhile, Public Works Minister Juan Edghill had also noted the importance of such exercise in Guyana's developmental trajectory.
"This is not just because of oil and gas. Oil and gas make it relevant because of the volume and the increase in traffic, but if you're listening to the vision and where we're going, Guyana would play a leading role in reducing CARICOM's import food bill by 25 per cent by 2025," the Minister had said.
Moreover, the Guyana Government is also cognizant of the increasing threat that cybercrimes pose, and is also working with bipartisan partners such as the United States Government.
In fact, only on Monday last, the Deputy Assistant Attorney General in the U.S. Department of Justice, Richard W. Downing, and his team – which included Cybersecurity Program Manager from the Secretariat of the Inter-American Committee against Terrorism, Organization of America States (OAS), Kerry-Ann Barrett, and other Department of Justice (DOJ) cyber experts visited Guyana to discuss cyber security solutions with Government officials here.
The US officials urged Guyana to sign onto the Convention on Cybercrime, which would offer additional resources to strengthen domestic capacity for law enforcement responses when combatting cybercrime. They said this crucial step would help Guyana combat cyber threats as it undergoes major economic transformation.
Additionally, the DOJ cyber team, in conjunction with the OAS, offered technical support toward the development of national cyber security frameworks to combat cybercrimes, especially in the security and energy sectors. The team proposed similar support to Caricom countries.  (G8)