…as neighbours recall shouts of "murder"; constant abuse
By LaWanda McAllister
In a gruesome discovery that sent shockwaves through Charlestown, Georgetown, the lifeless body of an 89-year-old former vendor was found on Wednesday morning, unconscionably dumped among a thicket of bushes just a stone's throw away from her humble place of abode.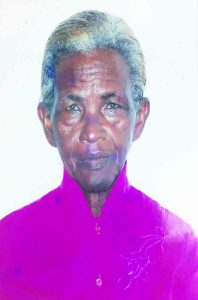 Dead is Patricia Bovell. Her body was found on Russel Street between Broad and Howes Streets, Charlestown, Georgetown on Wednesday. At the time of the discovery, the woman's body was wrapped in a blue and white sheet, which added to the haunting mystery surrounding her untimely demise.
According to her distraught niece Yolanda James, the pensioner was a mother of three, but only one of her offspring remains alive, and that person is residing abroad. The senior citizen had already lost her husband and two other children to the cruel whims of fate.
A few days before the grim discovery, Bovell's family grew increasingly concerned when they were unable to reach her via telephone. The woman's niece told this publication that after calls to Bovell went unanswered, contacted was made with her neighbours, who told them that they heard screams coming from the woman's house on Sunday.
Police have since said that at about 21:05h on Sunday, the woman's 32-year-old niece visited Bovell's Lot 57 Russel Street, Charlestown, Georgetown residence but she was not in the house. The niece told Police that she contacted Bovell's 27-year-old unemployed grandson who lives with her, and he told her that he took Bovell to Georgetown Public Hospital because she was feeling unwell. However, checks for the pensioner at GPHC proved futile.
With mounting worry, relatives contacted Police and an investigation was launched into her disappearance. During the course of their inquiries, the victim's grandson, with whom she had been residing, was taken into custody on suspicion of foul play.
Under the steely gaze of law enforcement, the young man initially claimed he had taken his grandmother to the hospital, but when the authorities attempted to verify his story, they came up empty-handed.
The investigators persisted with their questioning, determined to uncover the truth behind Bovell's disappearance.
In a statement on Wednesday evening, Police said the grandson told investigators that on Sunday, at about 04:00h, his grandmother took ill and he took her to GPHC using a passing taxi. Police said that investigators made checks at the hospital, but the woman was never at GPHC.
As a result, the Police canvassed the area at Russel Street and received information from neighbours that they heard screams of "murder" coming from Bovell's residence on Sunday at about 04:00h. According to Police, neighbours reported that the cries went on for about five to 10 minutes, and then the place became quiet.
On Wednesday morning at about 10:00h, the Police said, they received information of a stench coming from the alleyway near Bovell's home. Acting on this information, ranks went to the location and found a naked body of a female in a partially decomposed state, wrapped in a blue and white sheet, among garbage.
The body was taken to the Memorial Gardens Funeral Home to await a post-mortem examination.
Speaking with this publication, the dead woman's niece recounted the harrowing moment when they stumbled upon the grisly scene.
The woman said she and her family formed a search team to look for her grandmother, and they combed through the area where she had lived, scouring every nook and cranny for any sign of their beloved relative.
Eventually, they stumbled upon an empty lot where a strong stench was emanating. Suddenly, she said, a bloodied and swollen finger protruded from beneath a discarded sheet.
Horrified and sickened, the family immediately contacted the Police.
As the investigation continued to unfold, a throng of curious onlookers gathered to bear witness to the unfolding mystery turned into tragedy.
Abuse
Meanwhile, Bovell's granddaughter further told Guyana Times that the suspect has been abusive to his grandmother for years.
She said just recently her cousin beat the woman brutally, and kicked her down the stairs, which caused her to break her hands.
The woman said they made several reports of the abuse, but despite their efforts to get the man away from the pensioner, she continued to beg for him because she refused to put her late daughter's son to live on the streets.
When asked if the suspect suffers from any mental illnesses, the woman responded "no". She said he is in good health and is not mentally challenged.
Meanwhile, the woman's neighbours related to this publication that most days they are awakened by the woman's screams. One woman said, "When she come home with her pension, we would hear him saying 'way the money deh! Pass you pension now!". She said this is usually followed by a sound beating.
Another person said she last visited the woman on Tuesday last, since she attends her church. She said that while there, the woman told them that the man had beaten her.
Police said on Wednesday evening that several persons were questioned, and statements were taken as the woman's grandson remains in custody.