…to integrate renewable energy on small scale
In keeping with the times, Power Producers and Distributors Incorporated (PPDI) has embarked on plans to 'convert' at least one of its engines in an effort to determine the logistics of introducing renewable energy into the grid.
In a brief interview with this publication, PPDI Chief Executive Officer (CEO) Dr. Arron Fraser explained that the initiative is a pilot project, but there is the possibility of expansion if success is achieved.
"It is a pilot project," Dr Fraser explained to this publication. "It involves retrofitting the engine. And we have a partner on board."
Back in 2017, PPDI officials had announced that a three- year strategic plan to combine the use of hydropower and associated natural gas to generate electricity was being prepared.
Mined from deep beneath the earth's surface, associated natural gas is composed of methane as well as both hydrocarbon and non-hydrocarbon gases. Not only is it a fossil fuel, but it is also non-renewable.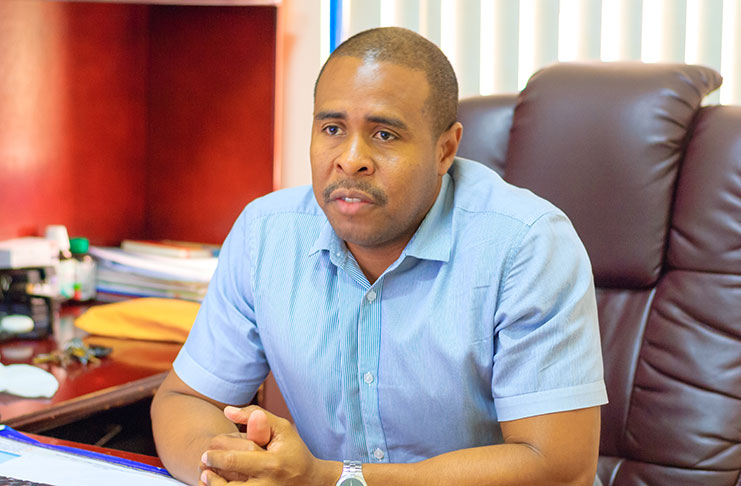 This plan was to have been executed at the New Kingston and Vreed-en-Hoop power plants, once Guyana starts oil and gas production. Asked about this energy plan, Fraser said this was currently a work in progress.
In Guyana, the Guyana Power and Light's (GPL's) Demerara interconnected system is fed with power by the PPDI, which replaced Wärtsilä, a company from Finland which for two decades maintained over a dozen engines for the utility company. Energy costs remain a prohibition, however.
In an interview with this publication on the sidelines of a workshop last month, Private Sector Commission (PSC) Executive Ramesh Dookhoo shared his thoughts on oil and gas. According to the businessman, the price fluctuations and high cost of fuel prohibits Guyana from being competitive with other countries.
"We still have a huge challenge, as a manufacturing country, with the cost for electricity. I would urge the Government to continue to look for sustainable supplies and initiatives in energy. Fluctuations that govern the price of oil affect us and put Guyana in a place where we're not competitive to export and compete with countries that have cheaper energy," Dookhoo explained.
He expressed need for renewable energy, like hydropower, to be integrated into the system, so that costs can be lowered. He also cited the previous Government's approach of adjusting the excise tax in order to stabilise prices for consumers.
"The way I see it, we either do hydropower or set up other systems; or we will be in the same position ten years from now. There is talk about getting some of the gas here. I don't know how much it will cost," Dookhoo declared.
"There has been a call by manufacturers to the Government to try and adjust the duties. Most of the diesel prices have gone up tremendously. What the previous Government did was adjust the duties so that the price could be stable and predictable," he said.
According to Dookhoo, this practice seems to have now been abandoned by the current Government. He was, however, hopeful that other ways of reducing the cost of fuel would be pursued.