As it prepares for the hosting of General and Regional elections on March 2, 2020, the People's Progressive Party (PPP) has activated the process to select a Prime Ministerial (PM) candidate who will be running alongside Presidential Candidate Irfaan Ali.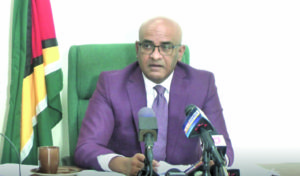 This was revealed by the party's General Secretary, Bharrat Jagdeo, at a press conference on Thursday.
"We outline the nomination process – so you can nominate people – then where the meetings and discussions will take place, and where the selection will take place," he posited.
Pointing out that the party's Prime Ministerial candidate is generally chosen from its Civic component, Jagdeo, a former PPP President and now Opposition Leader, said he is unsure of who the nominees for the post will be.
"I don't know who will be the person. I can't tell you that. We will have a number of people, I suggest, being nominated and then the discussions will take place and at the end, the party will chose," he explained.
Nevertheless, the Opposition Leader posited that the party's PM candidate will have to be one who has an excellent work ethic, similar to that of former PPP Prime Minister Samuel Hinds.
"People who have a good work ethic, who can implement things, who would be there on a sinecure position, who could actually do work…We need candidates who can work, not like Nagamootoo," he asserted.
On this note, Jagdeo lamented that Hinds did not get enough credit for his contributions to Guyana.
"Prime Minister Samuel Hinds did not get enough credit because people, the APNU disparaged him. But on a daily basis, he dealt with weighty issues. Sam dealt with tons of issues in the difficult period," he outlined.
According to the Opposition Leader, the former PM was in the forefront in dealing with the Guyana Power and Light (GPL) – taking it from a period of one-week blackouts to the state when the PPP left office in 2015.
Furthermore, he noted that Hinds also played a critical role in the changes in the mining sector.
"So he worked very hard," Jagdeo emphasised.
The PPP had elected former Housing and Water Minister Irfaan Ali as its Presidential Candidate back in January and since then, there have been much speculations about his potential running mate for next year's March 2 elections.
Already, possible candidates had been making their rounds in sections of the media. Such names include former Foreign Affairs Minister Carolyn Rodrigues-Birkett and former Minister within the Finance Ministry, Bishop Juan Edghill.
Earlier this year, Edghill, when contacted by Guyana Times, would only admit that he had been contacted by various persons and told of his suitability to be the candidate. However, the Opposition parliamentarian said he remained committed to the Party and was available to serve if called upon.
When asked on Thursday about Edghill's nomination, Jagdeo noted that while he was a credible individual, it will be "…really out of line if I tell you who will be nominated. I don't know as yet".