World Sight Day
Hundreds of persons turned up at the Georgetown Public Hospital Corporation (GPHC) on Thursday to benefit from free eye tests, an annual activity undertaken by the public health institution in observance of World Sight Day.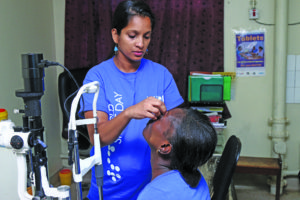 World Sight Day, observed annually on the second Thursday of October, is a global event that brings awareness on vision impairment.
Guyana Times visited GPHC, where Ophthalmologist, Dr Jenell Sarju-Kanhai explained that they would have opened their doors to the general public in areas of eye testing and other optical services.
"We're doing free eye screening for the general public, focusing on diabetes and glaucoma. Anyone could come in from the public and we see them. Because it's World Sight Day, we're focusing on preventing blindness and visual impairment," she identified.
According to the specialist, the response throughout the day was overwhelming. Other personnel were set up to examine persons as they entered the facility. This publication was told that the most common diagnoses were glaucoma and refractive errors.
On a daily basis, however, she noted that there are prevalent cases of cataract, diabetic retinopathy and glaucoma.
Glaucoma is a condition that causes damage to your eye's optic nerve and gets worse over time. It's often linked to a build-up of pressure inside your eye. On the other hand, refractive errors can be fixed with specialised spectacles.
"We have detected a lot of glaucoma cases. With some, it is like a refractive error. There are some diabetic patients, so we have the diabetics screening programme here as well. We refer them there," she informed.
Dr Sarju-Kanhai also pleaded with persons to get their eyes examined every year, to make early detections. She emphasised that some problems can only be detected with a check-up. Adding to that, age presents a greater risk factor.
"I've seen over 40 patients for the past hour and a half. There are other doctors that are seeing almost the same amount as well. There's a lot of diseases that you only detect on a general screening. You may not present any symptoms whatsoever, so it is important to do a regular check-up of the eye every year, mainly patients above 40. From 40, your age alone is a risk factor".
Two days ago, the World Health Organisation launched its first report on vision. The report stated more than 1 billion people worldwide are living with vision impairment because they do not get the care they need for conditions like short and far sightedness, glaucoma and cataract.
The document further stated that eye conditions that can cause vision impairment and blindness – such as cataract, trachoma and refractive error – are the main focus of national prevention and other eye care strategies. But eye conditions that do not typically impair vision, including dry eye and conjunctivitis, must not be overlooked as they are among the main reasons for people to seek eye healthcare services in all countries.
It also found that stronger integration of eye care is needed within national health services, including at primary healthcare level, to ensure that the eye care needs of more people are addressed.