…driver critical
At least three persons, including a schoolchild, were rushed to the Oscar Joseph District Hospital in Charity, Essequibo Coast, Region Two (Pomeroon-Supenaam) after the driver of a minibus lost control and crashed into a utility pole on Thursday afternoon.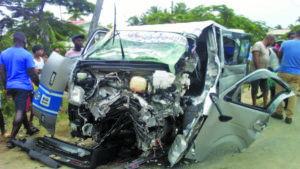 Based on reports received, the accident occurred about 15:30h along the Dunkeld Public Road, Essequibo Coast. One of the injured persons was identified as the driver of the minibus, 25-year-old Jerome Banson of Better Success, Essequibo Coast.
He is presently in critical condition after sustaining severe injuries. A woman who was in the front passenger seat suffered a broken leg and the schoolchild, who w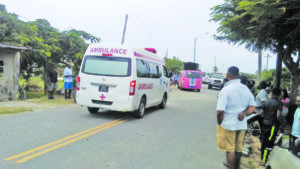 as reportedly thrown from the minibus, also sustained injuries.
Guyana Times was told that Banson lost control of the minibus while attempting to overtake a motor lorry along the Dunkeld Public Road after which the vehicle slammed into a lamp pole. The minibus then ended up on its side on the roadway.
At the time of the accident, the minibus was reportedly loaded with schoolchildren and teachers. Villagers quickly responded to the accident and righted the mangled bus to rescue the passengers. Residents and passengers confirmed that the bus was speeding.
The other passengers of the minibus were transported to the Suddie Hospital where they were medically cleared by personnel. An investigation has been launched into the accident.
Meanwhile, angry parents of the injured school children vented their frustration at Regional Executive Officer Dennis Jaikarran, who was visiting the Oscar Joseph District Hospital when the injured passengers were taken to the medical facility.
The parents were forced to hire public transportation to transfer their injured children to seek medical attention at the Suddie Hospital, since there were no ambulances to transport them from the Oscar Joseph District Hospital to the Suddie Hospital.
At the time, none of the ambulances at Charity Hospital were in working condition, although drivers are being paid to be on standby.
The angry parents have since accused the REO of being busy with political campaigning and not paying attention to the welfare of the citizens. They have since called for him to be removed from the Region with immediate effect.