A People's Progressive Party/Civic (PPP/C)-organised public meeting at Mocha, East Bank Demerara (EBD) was disrupted by supporters of the coalition government.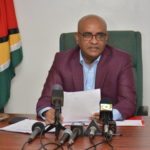 This was revealed by the Party's General Secretary, Bharrat Jagdeo during a press conference on Thursday.
Jagdeo, who is also the country's Opposition Leader, said the meeting got underway on Wednesday in the community, but it had to be cancelled.
"[The supporters] took a vehicle and started announcing their (coalition) meeting around and around very loud, so people can't hear our messages," Jagdeo recalled.
As a result, he explained that the Police advised the PPP/C representatives to cancel the meeting – a move over which Jagdeo expressed disappointment.
"Rather than encouraging them to stop their activity, the Police urged our people to cancel," he reasoned.
According to Jagdeo, this behaviour is most likely encouraged by the leadership of the A Partnership for National Unity/Alliance For Change (APNU/AFC) coalition.
He referred to instances on Nomination Day when APNU/AFC supporters prevented other parties, including the PPP/C, from accessing the venue at Umana Yana.
"What was particularly worrisome on Nomination Day was the acts of thuggery led by prominent people in the PNC (the largest party in the APNU)," Jagdeo stated.
"They were urging the people in their procession to block our procession from going to the Umana Yana," he contended.
"There is something called decency; they campaign on a slogan of decency and the decent thing to do is after you submitted your list is to go back peacefully and allow other parties to present their list, but they sought to block us from going to Umana Yana and they were actively urged to do so by members of the leadership of that party," Jagdeo expressed.
Regarding the cancelled meeting in Mocha, Jagdeo said that his Party has a message for the residents there, regardless of whether they would vote for the PPP/C.
"We may not get a lot of votes in Mocha, but we want them to hear about our plans too because their children are going to receive the $50,000 per year grant when it comes about and they are going to have their free water too whether they vote for us or not," Jagdeo explained.
Moreover, Jagdeo expressed concern that the election observers "are not around yet" to take note of these instances.
Nevertheless, the General Secretary said his Party would not be "intimidated".
"None of these acts of intimidation will deter us from our campaign and from going to communities," he posited.
In further illustrating the type of "intimidation" members of the PPP/C face during this period, Jagdeo referenced instances where party flags and paraphernalia are being taken down by APNU/AFC supporters.
"But we will put up more flags and put up more billboards and we will ensure people get our message," Jagdeo affirmed.
Just recently, Police arrested a man for pulling down PPP/C flags from a utility pole at Westminster, West Bank Demerara.
Additionally, on Nomination Day, a female APNU/AFC supporter assaulted a female Police Officer who was on duty.
The crowd of coalition supporters was trying to enter the compound, where only select individuals were allowed.
The female supporter was asked by the cop to step away from the gate; however, she refused.
She then began to shove the police officer and physically as well as verbally abuse her.