…Neron Barrow is MVP
Two days of exciting seven-a-side football culminated on Sunday evening when Soesdyke, through a Mark Barker second-half goal, emerged as the inaugural champions of the People's Progressive Party (PPP) Soesdyke/Timehri/Highway Cluster-organised competition.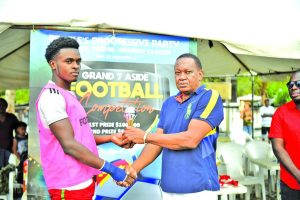 The matches were played at the Banakari Ground situated at Long Creek on the Linden-Soesdyke Highway, and Minister within the Office of the Prime Minister, Kwame McCoy, among other officials including Michelle Drepaul, Askari Ferrier, Everton Poole, and Pierre Andrews, witnessed exciting action as the 12 teams all displayed skills, but it was the Soesdyke boys who claimed the top prize of $100,000, medals and a trophy with their win over Waiakabra which walked away with $50,000 and a trophy.
Following Saturday's opening rivalry which saw all 12 teams competing, the quarter-finals were contested on Sunday when Soesdyke defeated Hauraruni 2-0, through goals from the tournament's Most Valuable Player (MVP) Neron Barrow Jonathan Bailey.
Waiakabra were then pushed to the hilt to turn back the challenge of Yarrowkabra, 3-2 on kicks from the penalty mark as both regulation and extra time failed to produce any goals. Bamia trounced Kuru College 3-1, thanks to goals from Marcus Johnson, Jvonte Lewis, and Kevin Charles. Kuru Colleges' consolation strike came from Steven Smith.
Swan Madewini eased into the semi-finals on account of a brace from Edson Williams, as Circuit Ville failed to score.
Both semi-finals were decided by respective 1-0 score lines, Waiakabra's Joshua Grant netting the winner against Bamia, with Soesdyke's Tyrone Khan sealing his side's place in the final and subsequent title, with the winner against Swan Madewini.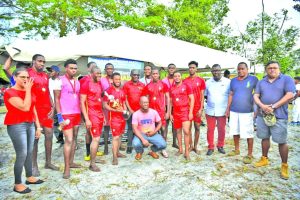 Khan, along with Edson Williams of Swan Madewini and Yarrowkabra's Terrence Glasgow, ended as the competition's joint leading goal-scorers, with a brace each. Waiakabra's Marlon Fernandez was adjudged the tournament's best goalkeeper.
In brief remarks following the presentation of prizes to the top individual performers as well as the teams, Minister McCoy thanked them all for making the tournament a resounding success. Gratitude was also extended to the hundreds of fans who turned up over the two days to cheer their teams on.
McCoy promised the communities that President Dr Mohamed Irfaan Ali and the Government of Guyana are fully committed to their development in the area of sports and would be working hand in hand with the Ministry of Sport to ensure that their needs were taken care of. Similar activities are planned for the near future.