…donates $2M to 5 special needs schools
After successfully raising some $2 million for awareness on Rett syndrome, the Precious Angels Charity on Friday donated all of its proceeds to five special needs schools.
Founder of the organisation, Hadiyyah Mohamed explained that their first fundraising activity was recently organised, and companies and other stakeholders would have supported. Through this initiative, they were able to give back to those in need.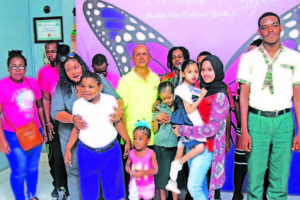 "Our event, Amani's Awareness Walk has been a very great success. We are thankful for all of our sponsors, our donators and everyone involved. All the money that was earned on that day is what we're distributing," she indicated.
Recipients included the MET Pride Academy, St Barnabas, Ptolemy Reid Centre, Diamond Special Needs School and Gifted Hands.
According to Mohamed, the organisation was set up after her niece was diagnosed with Rett syndrome, a rare neurological disorder that affects mostly girls. The idea is to help the public to gain familiarity with the disorder since it is not known to many Guyanese.
"It's called Precious Angels. It was inspired by niece, Amani Mohamed, who was diagnosed with Rett syndrome, which is a very rare neurological disorder that affects little girls. Our intention is to raise awareness about this disability and to shine the light on our Guyanese."
It was highlighted that this disease is present in other children here in Guyana, who do not get the treatment and other services they deserve.
"There are other children in Guyana with the disability but because of a lack of equipment and trained personnel, they are not able to be diagnosed," Mohamed informed.
The syndrome is a rare non-inherited disorder that affects 1 in 10,000 females and begins to display itself between six to 18 months after birth. Rett syndrome leads to severe impairments, affecting nearly every aspect of life: ability to speak, walk, eat and breathe easily.
According to WebMD, a child with Rett may have uncoordinated breathing and seizures, including hyperventilation.
"Symptoms of Rett syndrome usually don't improve over time. It's a lifelong condition. Often, the symptoms worsen very slowly, or don't change. It's rare for people with Rett syndrome to be able to live independently," the website detailed.
Although there's no cure, potential treatments are being explored. The areas under observation focuses on improving movement and communication, treating seizures, and providing care and support for both children and adults.