…says hinterland must benefit from comparable services to coast
While in Batavia, Region Seven (Cuyuni-Mazaruni), for the Heritage Day festival, President Dr Irfaan Ali on Sunday acknowledged his Government's responsibility to bridge infrastructure and service gaps between the capital city and hinterland locations, and made it clear that the Government takes this role seriously.
According to President Ali, minimum standards must be established across the country that would allow all Guyanese to benefit in an equitable manner. He noted that it must not be a case where the capital city is the only beneficiary of adequate services.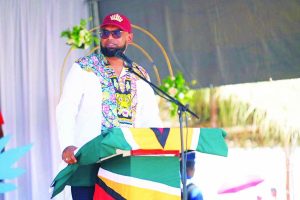 "Our task in Government, is to work towards bridging the gaps. Wherever there are gaps, we have to bridge the gaps to ensure there is a minimum set of standards, a minimum set of service, that all our people enjoy in an equitable way. So, it is not, in every capital city will have services that other areas will never have," the President said.
"But what we have to do in the country is to establish a minimum set of service and standards that every single community must enjoy. And that is what we're doing. For water, for electricity, for education, for healthcare, for infrastructure, we're establishing that minimum set of service that every single community must have across the country. And that is what we're building. A strong, prosperous, productive future for every Guyanese."
The President also made mention of the work that has been done through a United Kingdom Smart Hospitals Initiative, to allow Guyana to benefit from the £46.3 million Strengthening Health Facilities in the Caribbean (Smart Hospital) project.
Through that project, Guyana has been able to upgrade five hospitals – Diamond in Region Four (Demerara-Mahaica), Leonora in Region Three (Essequibo Islands-West Demerara), Mabaruma in Region One (Barima-Waini), Lethem in Region Nine (Upper Takutu-Upper Essequibo) and Paramakatoi in Region Eight (Potaro-Siparuni), to accommodate Smart Hospital technology.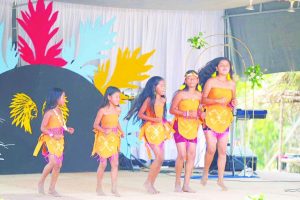 According to President Ali, the Government is working to incorporate Information and Communications Technology (ICT) solutions into not just medicine, but also education services, thereby helping to bridge gaps.
"We are now investing in the infrastructure to ensure that you have, not just Wi-Fi services, but Wi-Fi services that is capable of giving you that platform for e-learning and distance learning. Similarly, the teachers who are already trained. We want you to become trained graduates right from your villages. That is why we're expanding the GOAL scholarship programme and building infrastructure to support you benefitting from this programme."
"We're working with partners like the UK, to ensure we have Smart hospitals and we build out telemedicine. So that our people in our communities, all across Guyana, can have a level of service we can be proud of," President Ali explained.
The first facility that was upgraded and commissioned was the Diamond Hospital. It was reported that on June 1, 2020, contractor Raffik and Sons started the retrofitting works which were supposed to be completed on May 31, 2021; however, with the cooperation of all stakeholders, the facility was completed on April 6, 2021.
The Diamond Hospital was retrofitted to improve its resistance to strong winds, flooding, and earthquakes as well as boost the 'greenness' of the facility and emergency contingency provisions. The safety aspects included the installation of wind-resistant roofs, windows, and doors as well as improved storm water management. Walls were strengthened, electrical wiring renewed, and a fire safety system installed.
The functional aspects of the retrofit included specific improvements for disabled persons, accessibility, telecommunication, and infection control. The green upgrades provided more efficient cooling, ventilation and waste management; rainwater harvesting systems; LED lighting; solar panels – all aimed at lowering the operating expenditures and environmental footprint.
The facility also received a full upgrade of the pharmacy and HVAC system to keep medicines and supplies at a safe storage temperature. These upgrades cost around $222 million.
Meanwhile, the Mabaruma Hospital was upgraded into a Smart facility to the tune of $150 million and was officially commissioned in December 2022. The Mabaruma Hospital now features a new Accident and Emergency (A&E) department; a renovated recovery room; a state-of-the-art Intensive Care Unit (ICU); a refurbished kitchen; a sterilisation room and two surgical theatres.
The last hospital to be transformed was the Paramakatoi facility, which saw the Guyana Defence Force (GDF) coming on board to provide assistance, owing to the number of challenges faced with regard to this leg of the project. The Paramakatoi Hospital was officially launched as a Smart facility in April 2023. (G3)