…as $6.2B allocated to strengthen justice sector
For this year, $6.2B has been allocated to the justice sector from the $789.1B National Budget, Guyana's largest budget ever.
In his budget presentation on Monday, Senior Minister within the Office of the President, with responsibility for Finance, Dr Ashni Singh, said that in 2022 the Government spent $4.4B, and has increased that sum by $1.8B this year for the enhancement of the justice sector, which is intended to expand access to justice countrywide, while also addressing existing challenges in the system.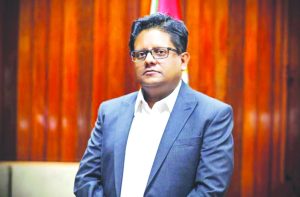 Concerning expanding access to justice, he added that the Kwakwani Magistrate's Court was commissioned in 2022, while an additional eight courts – Court of Appeal, Mabaruma, Port Kaituma, Vigilance, Cove & John, Mahaicony, Bartica, and Mahdia – are slated for completion in 2023.
Additionally, Minister Singh pointed out that Information and Communications Technology (ICT) is being deployed to improve the efficiency of the court system. In this regard, SMART courts are among the new projects intended to accelerate the provision of justice.
Additionally, an ELitigation Programme for the Court of Appeal and the Georgetown High Court, as well as a Case Management System for the Magistrates' Courts are intended to go live in 2023. Towards these and other initiatives, $1.5 billion has been budgeted in 2023.
"Additionally, investments are being made to strengthen technical capacity to improve the efficiency of the system. In particular, 34 persons successfully completed the Prosecutorial Programme at the University of Guyana, increasing the number of prosecutors assigned to various courts countrywide with the aim of reducing the need for pre-trial detention," he disclosed.
He reminded that, in November 2022, the Restorative Justice Act was passed, paving the way for the use of alternative sentencing for specific categories of offences, along with the approval of an amendment to the Narcotic Drugs and Psychotropic Substances Control Act, allowing the removal of custodial sentences for persons in possession of 30 grammes or less of cannabis.
These measures, he noted, would all contribute to reducing the burden on the justice system.
Dr Singh said, too, that in 2023, a number of other initiatives are targeted to advance the constitutional and law reform processes. These include: the operationalising of the Constitutional Reform Commission; the work of the Law Reform Commission; the completion of the Revised Laws of Guyana, and the preparation of the Law Reports of Guyana.
"In this regard, I am pleased to announce that the new Laws of Guyana volumes are expected to be available by June of this year. An amount of over $600 million has been provided to finance these and other initiatives. Also, in the interest of expanding the capacity of the justice sector, work will be advanced to improve the ease of access to legal education," he told the House.
Regional law school
Having received the green light from the Council of Legal Education (CLE), the Minister said, a feasibility study will be prepared in 2023 on the establishment of a regional law school in Guyana, within the framework of the CLE. This will cater to local, regional and extra-regional students, given the growing need for legal education in Guyana and the Caribbean, he added.
According to the Finance Minister, "The preservation of public trust and the safety of our citizens can only be attained when justice prevails for all Guyanese. In this quest, Government is unwavering in its commitment to strengthening the justice sector. Accordingly, our 2020 Manifesto measures included the reform and accountability of the criminal justice system to ensure that justice is delivered in a timely manner." (G1)