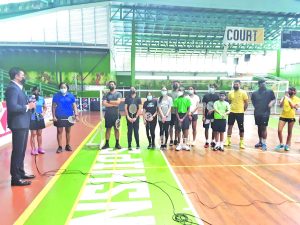 The Guyana Badminton Association (GBA) and the Guyana Tennis Association (GTA) are the first two sports associations in Guyana to voice their thoughts on the recently announced $4.3B Budget for sport this year.
This year's budget has seen a $1.1B increase from 2022's $3.2B budget allocation — a fact that has been lauded by the associations. The Guyana Badminton Association (GBA) wrote, "The Guyana Badminton Association wishes to commend the 2023 National Budget presented by the Hon. Minister of Finance Ashni Singh. Our unanimous view is that this budget is comprehensive and adds another pillar to the construction of a strong sports sector by the present government.
"It is public knowledge that the fraternity has been injected with needed support and vigour from the Ministry of Culture, Youth and Sport under the leadership of the Hon Charles Ramson Jr, who has created a new vision and direction for sport in Guyana. We anticipate that even though 2022 was an excellent year for local sport, the provisions in the Budget will allow for an even better 2023."
The Guyana Tennis Association (GTA) stated, "The Executive members of the Guyana Tennis Association welcome the increase in funds allocated to sport in the 2023 National Budget. We are optimistic that our sport will expand to new areas this year with the continuous support of the National Sports Commission, through the Ministry of Culture, Youth and Sport.
"We commend the Honourable Minister of Culture, Youth, and Sport Mr. Charles Ramson for his astute leadership and frequent engagements with the executive of the GTA to assess our needs, provide funding, and create pathways to improve the performance of athletes, coaches, and the Executive.
"The GTA looks forward to continued interaction with the Honourable Minister and the National Sports Commission as the Executive strives to bring growth to the sport of Tennis throughout Guyana."
The Sport Budget was announced on Monday by Finance Minister Dr. Ashni Singh as he presented the National Budget for 2023 to the National Assembly at the Arthur Chung Conference Center (ACCC).