The former President of Liberia, Nobel Peace Prize winner Her Excellency Ellen Johnson Sirleaf, is calling on Guyanese to ensure that they protect the progress the country has made both economically as well as democratically over the past decades.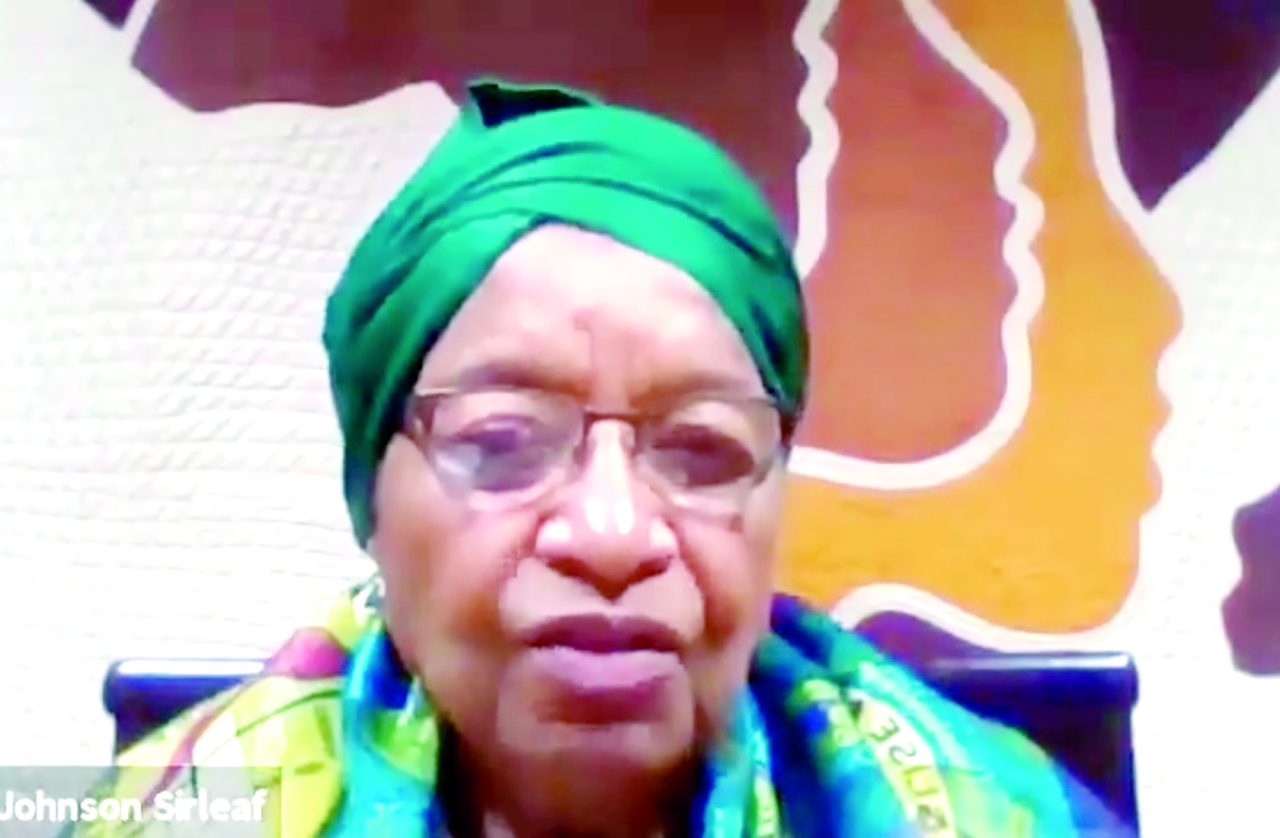 During a virtual interview with Zulficar Ally, President of the American Chamber of Commerce in Guyana (AMCHAM Guyana), Johnson Sirleaf lauded the progress Guyana has made over the years and underscored the need for this to be preserved amidst the political impasse the country is facing.
"My appeal to the authorities who manage the affairs of Guyana, my appeal to the people of Guyana (is) please see your country and the progress it has made in these last few years and protect it," she pleaded.
While there have been mounting warnings of serious consequences and threats of sanctions from the international community, the former Liberian Head of State brought attention to the devastation that could overcome Guyana if the will of the people expressed at the March 2 elections is not respected.
Recalling her own experience of being a victim of a situation where elections were held and, despite the will of the people being very clear, those results were not announced, she noted that this will not augur well for Guyana.
"Please do not see this situation digress into violence, into destruction, because once you get on that path, it is difficult to control it, and you never know what the final consequence will be. You will cause your own people to suffer, [and] you will cause lasting effects to people's morale, to people's will to be able to serve their country, to your supporters outside who have done everything to get you to this place of progress that will finally see you as being self-destructive, being able to destroy your own progress," the former Liberian President posited.
Johnson Sirleaf, who is also a member of Nelson Mandela's The Elders Group, further stated that when people are given the opportunity to exercise their right to choose a government and that does not happen, then what follows is unimaginable.
"Because those who conclude that their votes have not been respected will show resistance, and sometimes we have to ensure that that resistance is peaceful; but no one has control over what happens once protest begins… If that protest is not properly managed by the state and authorities, there is counter action to repress or contain the protest. It would lead to serious conflict with serious consequences," she contended.
The former Liberian Head of State reminisced that her country had faced a similar situation. She noted that the aftermath of protest and repression resulted in the destruction of Liberia, which was embroiled in continued conflict for many years.
Against this backdrop, the 81-year-old Nobel Peace Prize winner called on local stakeholders to ensure the gains made thus far are preserved.
"You've given so much to your country in the last decade to bring it where it is. This is the time to consolidate the progress, to see democracy that you have earned on a firmer footing; and that means reconciliation, that means cooperation, that means getting together and looking at this situation and seeing Guyana as bigger than any particular party or any particular group or any particular person. That is our call to you – a call for the preservation of your future by yourselves. No one can do it for you. Everyone can promote whatever you've done to achieve this level of democracy, but only Guyanese people can protect it and maintain it," Johnson Sirleaf asserted.
She went on to note that Guyana's March 2 elections have been followed by so many groups, including hers, The Elders, with many of them being satisfied that the will of the people is that which should prevail. She added that the National Recount, which has been endorsed by many regional leaders in the Caribbean as well as from the United States, among others, has brought hope that the protracted electoral process, which is now ongoing for months, would finally be resolved.
Ellen Johnson Sirleaf served as President of Liberia from 2006 to 2018, and was the first elected female Head of State in the continent of Africa.