The hierarchy of the Guyana Defence Force (GDF) has been boosted with the commissioning of 11 new ranks, including a lone female.
The new batch of Second Lieutenants, who recently completed the Standard Officers Course Number 49, received their Instruments of Commission from Commander-in-Chief, Brigadier David Granger on Wednesday at a presentation ceremony held at State House.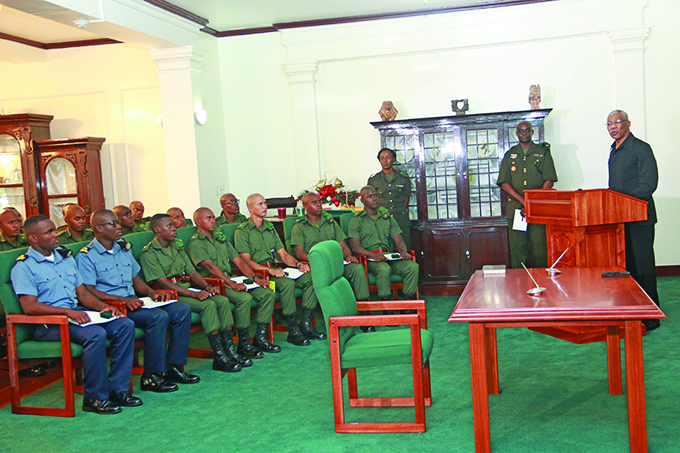 The Officers are among 14, who successfully completed the Standard Officers Course, out of a total of 36 who had initially joined the course. Also included in this batch were two officers from Belize and one from Antigua and Barbuda.
Delivering brief remarks during the simple but significant ceremony, President David Granger told the newly commissioned officers that the instrument is not merely a graduation certificate but is a parchment which signifies that its holder, as commissioned officer, has special responsibilities to perform.
"(This parchment) does not signify your successful completion of a training course. In fact, it is a lawful licence which enables you to perform your function, it poses a renewed trust in exercising authority over your subordinates, it enables you not only to demand obedience of your subordinates but also obey your superiors," he stated.
The President went on to remind the newly commissioned ranks of their obligation to observe the Defence Force's five core values, which are: duty, discipline, identity, integrity and loyalty. He also called on them to obey the laws of Guyana, while at the same time practice the values and standards of the GDF which they were taught.
Furthermore, the 11 ranks were presented with a special coin which signifies Guyana's "Green State" initiative. The Commander-of-Chief told the ranks that the coin should serve as a reminder of their sworn duty as they move around the country not only to serve the State but the people and the environment as well.
Meanwhile, the lone female among the newly commissioned batch, Second Lieutenant Brandi Johnson, delivered the vote of thanks assuring President Granger that they will uphold the Constitution of Guyana in the execution of their duties.
"We will live by the values and standards of the Guyana Defence Force as you have directed. Your Excellency, thank you for the trust and confidence that you and the Members of the Defence Board have placed in us as commissioned officers of the Guyana Defence Force," she stated.
Following the brief presentation ceremony, the Commander-in-Chief hosted the newly commissioned ranks along with several Ministers of Government and top brass of the Army to a luncheon.
Additionally, a commissioning parade for the commissioned officers was subsequently held on Wednesday afternoon at the Drill Square at Base Camp Ayanganna.