After months of sleepless nights and intense investigations, the Police were able to bring the perpetrators who brutally murdered 16-year-old Isiah and 19-year-old Joel Henry to justice – a development that was welcomed and praised by His Excellency, President Dr Irfaan Ali.
President Irfaan Ali has lauded the work of the Guyana Police Force (GPF) under the leadership of Crime Chief Wendell Blanhum for finally bringing closure to the case. This, he positioned, was a matter of national importance.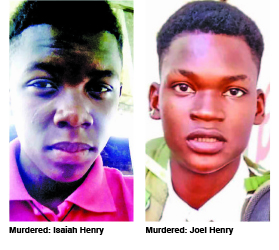 On Thursday, the Director of Public Prosecutions (DPP) recommended that 19-year-old Akash Singh of Zeelugt, East Bank Essequibo (EBE); his stepbrother, 33-year-old Anil of D'Edward Village, WCB, and 34-year-old Vinod Gopaul of Yakusari, Black Bush Polder, Corentyne, Berbice, be charged for the heinous crimes.
"As I have always said to the media and Guyana, I have full confidence in the Police Force, in the ability of the Crime Chief and his team. I'm very happy that we've made such great progress on this matter. This was very important for us nationally and now it's a big step out and I'm very happy," President Ali told the media on Friday.
Meanwhile, Opposition Leader Joseph Harmon also commented on the latest update in the Henry boys' case, saying that he hopes the Police have gotten the right persons who committed the gruesome murders.
"Since this matter is at this very delicate stage, I would just want to say that I hope they have the right people," he said.
Last year, on September 6, the mutilated bodies of the Henry cousins were found in the backlands of Cotton Tree, West Coast Berbice – almost two days after they had left their Number Three Village, WCB home to pick coconuts in the backlands, but never returned home.
Their butchered bodies were found in clumps of bushes partially covered in mud, after relatives went in search of them.
The news of their deaths sparked protests across several villages along the West Berbice corridor, and commuters and other innocent persons were beaten and robbed, while roads were blocked and vehicles were torched by residents of the area.
According to post-mortem results, the Henry teens died as a result of haemorrhage and shock owing to the extent of their wounds; their spines were also severed.
The Government had taken certain extraordinary steps in an effort to solve the crime, including inviting a Caricom Regional Security System (RSS) team to assist with the investigation. The team subsequently recommended that the Police do an additional probe.
Meanwhile, Dr Louis Fondebrider, an expert from the Argentine Team of Forensic Anthropology, had recently visited Guyana in a bid to determine if any support could be given towards solving the murders.
Then this week, the Police were able to secure a confession, thus leading to the arrest and arraignment of three men for the heinous crime.