…as Mayors, Deputy Mayors sworn in
The red tapes and barriers associated with transacting business are common challenges faced by Guyanese, but Government has charged local organs to collaborate and work towards one collective goal of enhanced productivity and ease of business.
President Dr Irfaan Ali shared this position on Friday, during the commissioning of oaths to Mayors and Deputy Mayors from the 10 municipalities. He used the platform to highlight that along with an infrastructural transformation, the idea is to enhance governance, transparency and reliability of service.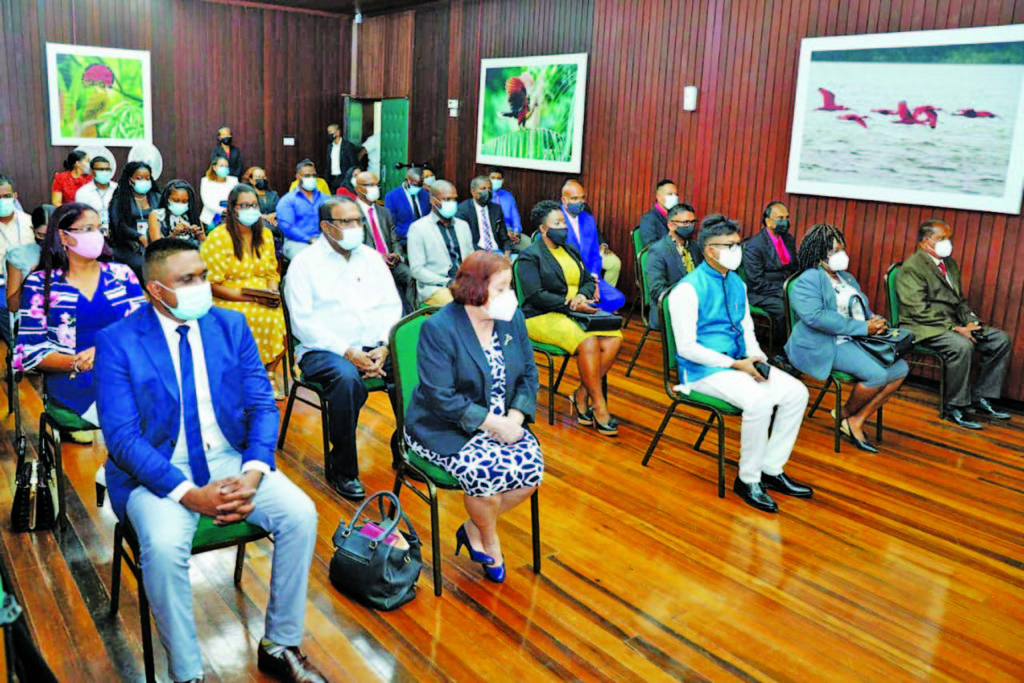 Amid this, he noted that Government is seeking to establish a greater relationship with local organ bodies across the country, especially in light of the significant macro development plans that are in the pipeline for Guyana.
"The macro development agenda is critical because, in most instances, it has a direct impact or direct link to what you do at the municipalities and Town Councils. Guyana is embarking on a transformative agenda – an agenda that will see key and critical infrastructural links being created, rehabilitated and reestablished in some cases. These transformative infrastructures are aimed at increasing productivity, increasing efficiency and reducing the cost of doing business, creating employment and enhancing the livelihood and welfare of people all across our country," Dr Ali positioned.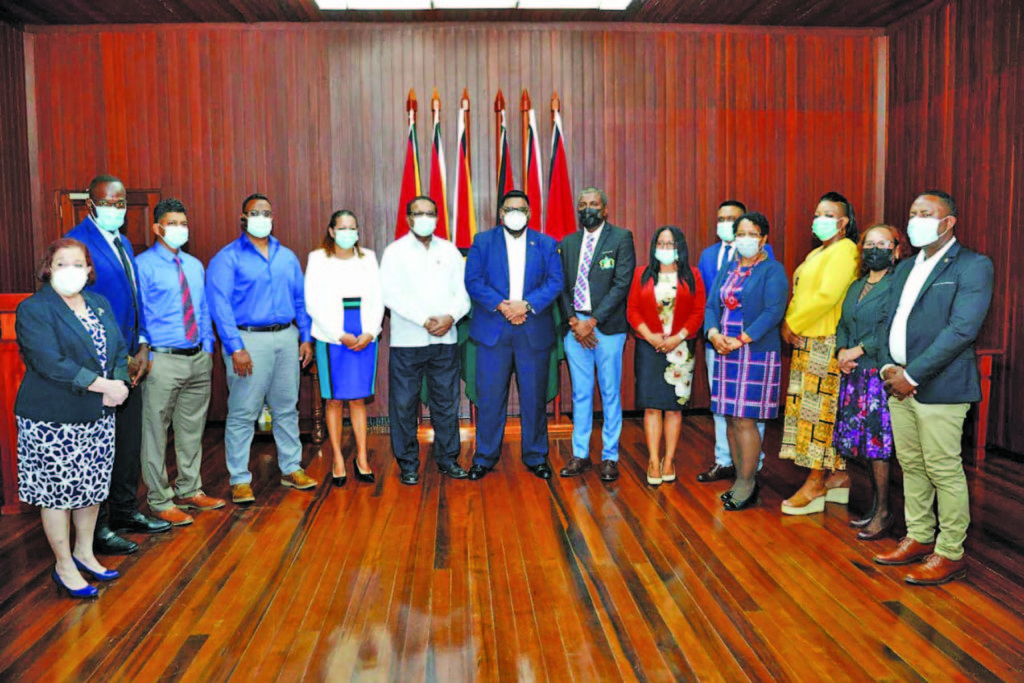 For this, stakeholders can expect a better level of engagement between Central Government and all local organs. The Head of State said it is imperative for the local bodies to conceptualise a common development course.
"It is imperative that we all, not only embrace a common development trajectory but that we consult, that we talk and we share ideas to ensure that at the end of the day, the people of Guyana get the best service that we can deliver of them."
He acknowledged that these local organs are challenged by several factors, which Government is closely examining. These include tax collection, outstanding audits and sustainability of the Councils among others. Apart from direct investments from the Administration, the governing laws and regulations must match the current dynamics.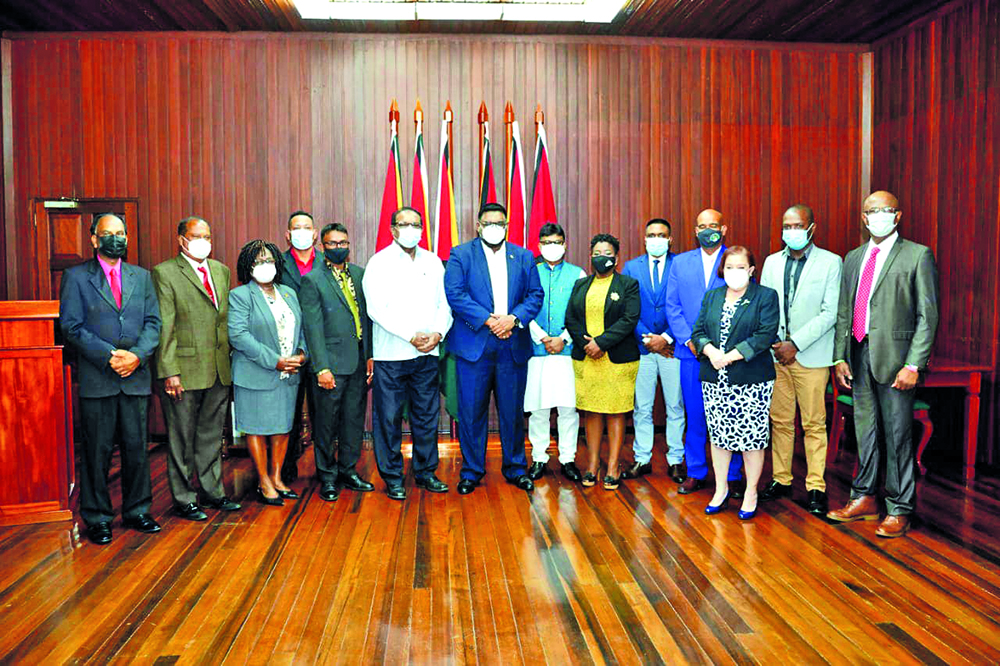 "The level of commerce, sophistication of investment has changed tremendously. The type of office building has changed but the laws have remained constant. The regulations have remained constant. The building codes have remained constant. These are the things that Central Government will be working on so that we can bring the laws, regulations and codes up to speed with the changing dynamics that exist," the President said.
A major deficiency, he said, is the length of time for approval of building permits which can take years in some instances. Now, efforts will commence to have a single approval system that is recognised with international standards.
"It stays at some City Councils for two or three years. So, what we need to do now is work collectively and create a single-window approval system in keeping with international best practices. Very shortly, we will be engaging you on the modernisation of the institutional structures, the legislative infrastructure to establish a single-window system for building permits and construction plans. That will greatly enhance our competitiveness and improve our ease of business status," the officials were told.
Those who took the oath of office in the presence of Minister of Local Government and Regional Development, Nigel Dharamlall; and Minister of Parliamentary Affairs and Governance, Gail Teixeira are Mayor Rajendra Prabhulall from Anna Regina and his Deputy, Lorna Fitzallen; Mayor Winifred Heywood for New Amsterdam and his Deputy, Wainwright Mc Intosh; Mayor Ubraj Narine for Georgetown and his Deputy, Alfred Mentore; Mayor Winston Roberts from Corriverton and his Deputy, Imran Amin; Mayor Gifford Marshall from Bartica and his Deputy, Arita Peggy Embleton; Mayor Waneka Arindell from Linden and her Deputy Wainewright Odida Bethune; Mayor John Macedo from Lethem and his Deputy, Debra Evadne King; Mayor Chris Phang from Mabaruma and his Deputy, Carolyn Adelva Robinson; Mayor Dave Budhu from Rose Hall and his Deputy, Roydel Lewis and Mayor David Adams from Mahdia and his Deputy Juewayne Mendonca-Burrowes.
Article 71 of the Constitution states, "Local government is a vital aspect of democracy and shall be organised so as to involve as many people as possible in the task of managing and developing the communities in which they live".