Inaugural President's T20 Cup launched…
By Timothy Jaikarran
The President's Cup has officially been launched by the President of Guyana, Dr Irfaan Ali.
This tournament is being undertaken by the Georgetown Softball Cricket League (GSCL) Inc, in collaboration with Guyana's Honorary Consul in Florida and will be played March 5-7, 2021.
Delivering the feature address at the launching was the President himself who said, "The people of Guyana have bestowed honour on me to serve and be of service to the people of Guyana. Our world is going through a pandemic and people of every status find themselves trying to survive a single virus. We can take lessons from this situation as it is the action of our brothers in the GSCL and GCB [Guyana Cricket Board] as to how cricket survives and improves as it requires us to come together as a collective.
"I am honoured to be a part of this launch, the greatest out of sport is its ability to bring people together, its ability to break down social barriers. Sports has many intangibles; the first fundamental is to remove the disparity and invest in it to give our young people the opportunity to be the best they can be. We have invested in a multipurpose facility in every region of international standard, and even host night events such as the one at LBI [La Bonne Intention].
"We have to ensure we rekindle the powerful tool of sports; heavy emphasis will be placed on school sports. We as a Government will be supporting sports at all levels; we have to work on training and developing a core group of sports facilitators to be attached to a district. Sports teach us loyalty and discipline and team work – all key elements, and I must say to you that the level of our cricket has risen and this tells that we need to continue to nurture and build talent. I thank the sponsors and those that support this initiative and those associated, and I'm hoping soon the softball league can launch a school programme. On another note, we have to use these initiatives as a catalyst to encourage persons to embrace exercise as an important part of life. So, once again, I ask the team to maintain disciple, play in the true spirit of cricket, and may the best team be the best example."
Giving his take as well was the honorary secretary of the GCB, Anand Sanasie who related that nothing could happen without sponsors. He went on to make mention of the West Indies' emphatic win over Bangladesh, noting that softball as well is a great game, and it has relieved the tension of citizens of Guyana. He further noted that once he was around, the LBI Ground would be facilitated to use any resource of the GCB in the future.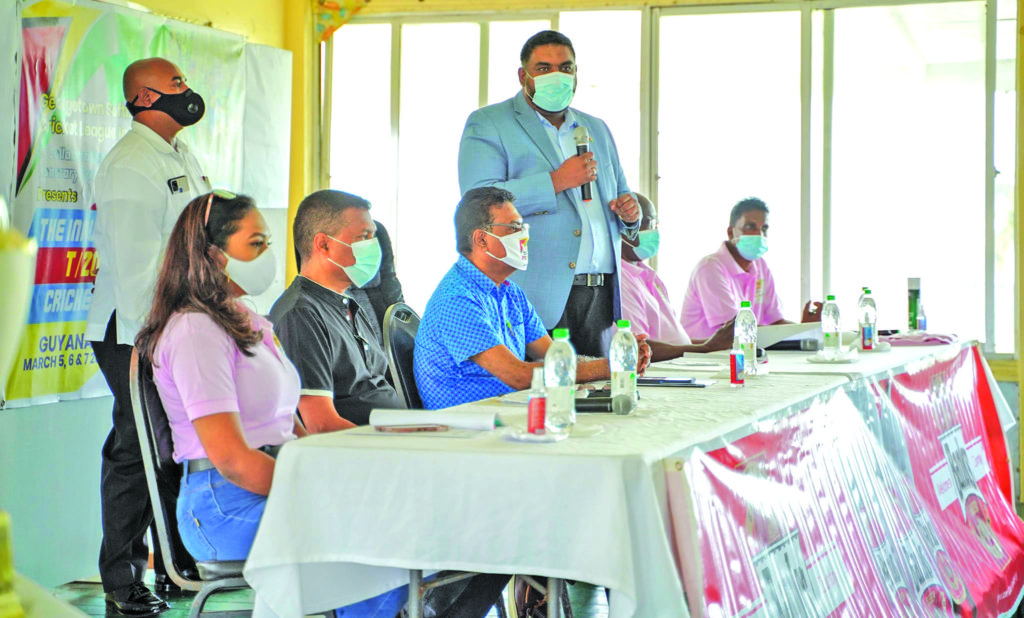 Also delivering remarks was GSCL President Ian John who said, "Every household is connected by cricket. This initiative was done in December 2020 as everything was discussed to ensure everything gets off the ground. Hence, the tournament became a reality and I know it will be an annual event. Due to the COVID-19 restrictions, we were forced to have a certain amount of overseas teams. But we are optimistic that with the vaccine and divine intervention, things will be looking better and this tournament will only get better and better. We have been given the permission from the task force in getting this tournament off the ground. We would like to say thank you to our sponsors, as without them, this tournament would not have been a reality."
The tournament will be played in three categories: Open (any age), Masters (over 40 years old) and Legends (over 50 years old). According to the organisers, they are aiming to have a minimum of eight teams per category, including teams from abroad.
The teams in the Legends O-50 category are Regal Legends, Savage Legends, President's XI of New York, Floodlight Legends, Parika Defenders, Sunshine State Legends of Florida, Enterprise Legends, and Rockaway Legends out of New York.
The teams in the Masters O-40 are Regal Masters, Wellman Masters, Better Hope Masters, Fisherman Masters, Success Masters, Corriverton Masters, HS Masters, and Ariel Masters.
In the All-Stars category, the teams are Regal All Stars, Speedboat XI, Pigeon All Stars, Sunshine State All Stars of Florida, Cotton Field Wild Oates, Ariel All Stars, Xenon All Stars and Avinash All Stars.
The grounds to be used are Police Sports Club, Queen's College, Everest Sports Club, LBI Cricket Ground, MYO, GYO, DCC, and Malteenoes Sports Club.
There is no entrance fee to participate. However, it is expected that all participating teams will be in full uniform and also have a scorer. The organisers will ensure the venues are up to standard, appoint umpires, and provide lunches, water and balls throughout the tournament.
The winning teams in each category will receive $500,000 and a trophy while the runners-up will collect $100,000 and a trophy. There will also be a 32-inch TV up for grabs for the man of the series in all three categories.
The sponsors on board are Banks DIH through Banks Beer and its Rainforest Water Brand, Trophy Stall, Danny Persaud, Elegance Jewellery and Pawn Shop, Star Party Rentals, P&P Insurance, Crown Mining Supplies, Regal Stationery and Computer Centre, Regal Sports, Dinat Trading, Mohamed's Enterprise, King's Jewellery World, and Roraima Group of Companies.