National Schools Basketball Festival…
The resurgent President's College Girls Basketball Team registered another strong showing as first round action in the National Schools Basketball Festival continued on Saturday evening at the Cliff Anderson Sports Hall (CASH), dominating the St Joseph's Females by scoring 41 points to their paltry 2 points.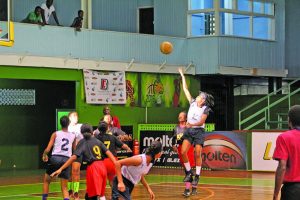 Saffiya Green was chief contributor to the President's College cause with a game high 21 points and 13 rebounds, while Roshelle Campbell had 7 points and Analisa Barclay added another 5 points and 5 rebounds.
Shantel White was St Joseph's lone scorer with 2 points.
The dominant Marian's Academy ended the round robin stage of the female contest undefeated, humbling the Bishops' High by scoring 26 points to their 8 points.
Jada Mohan led the Marian girls' with 11 points, 5 rebounds and 5 steals, while Kelian Sauers had 6 points and Jahrier Young contributed with 3 points and 9 rebounds.
Demelza Nicholas, with 3 points and 7 rebounds, and Kesann Charles, with 4 points and 5 rebounds, were the main contributors for the Bishop's High unit.
The Adult Education male side continued their late surge in the round robin by pulling off another upset win, upstaging the Bishops' boys by scoring 36 points to their 18 points.
David Douglas was the top scorer with 12 points and 5 rebounds; while Terrence Adau's 10 points and Graig Harlequin's 7 points and 7 rebounds ensured that the Adult Education side got past the opposition.
Royden Glasgow's 5 points and 5 rebounds and Quivon Pierre's 4 points and 7 rebounds were not enough to save the Bishops' boys.