…2 arrested for harbouring wanted men
Prison escapee Uree Varswyck, also known as Malcolm Gordon, was killed in a
shootout with law enforcement officers on a Joint Services intelligence-led operation at Central Amelia's Ward, Linden at about 23:45h on Thursday.
Reports are that ex-policeman Varswyck and fellow fugitive from justice Mark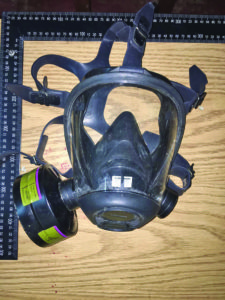 Royden Durant, aka Royden Williams and Smallie, were seen in the Central Amelia's Ward area of Linden, Region 10, a short distance away from the Amelia's Ward Police Outpost. As Joint Services ranks approached their hideout, they opened fire. The ranks returned fire, killing Varswyck in the process. His body is at the Wismar Hospital Mortuary, Linden as ranks continue their relentless pursuit of Royden Williams.
A 9MM pistol with 40 live rounds, a haversack and cloth bag containing medication, a gas mask,
military camouflage clothing, toiletries and a cellular phone were found when police went to retrieve Varswyck's body. A bicycle and a rake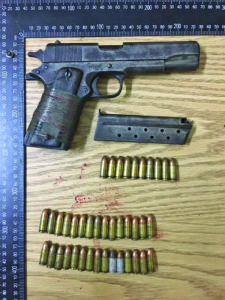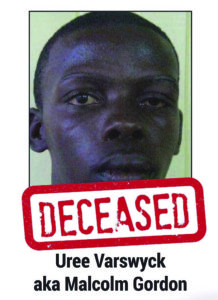 Gun and ammunition
were leaning against the small wooden house. Black plastic bags were spotted inside the yard, and a spade was at the front of the yard. A bag of tennis rolls was just outside the front of the fence, and the gate to the premises was secured. Varswyck, who had escaped from prison while on remand for murder, was lying dead clad in a camouflage vest and a pair of military boots.
Residents in vicinity of the shootout recalled seeing Police occasionally traversing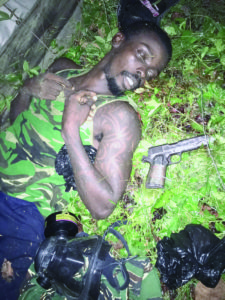 the area. A resident recalled hearing the commotion on Thursday evening and seeing the Police traversing the location. The resident also recalled spotting the owner of the house and another man fitting the description of Williams at the house over the course of the past week "smoking on the step".
One resident told this publication that they are "scared", given that the area is densely vegetated. Another resident recalled hearing on Thursday evening what sounded like squibs going off, and noted that they were made aware of what had transpired only on Friday morning.
'E' Division (Linden-Kwakwani) Commander, (ag) Superintendent Anthony Vanderhyden, noted that Joint Services ranks acting on information headed to Lot 5118 Central Amelia's Ward, whereupon shots rang out at them.
The lawmen returned fire, killing Varswyck in the process. The Commander (ag)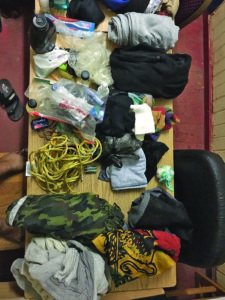 noted that the deceased had been spotted in the company of Williams.
Two other persons have since been arrested for reportedly harbouring the escapees. This newspaper understands that one of persons taken into custody is the owner of the said property where the incident occurred. Residents informed Guyana Times that the individual who owns the home is a "Rasta man" who goes by the alias "Priest". One resident described him as a "cool Rasta man" who always "hail up everybody."
According to residents, the man has been living at the location for over seven years, and is a "well-known" individual.
Investigations are ongoing.
Varswyck, Royden Durant and Cobena Stephens, aka OJ, are said to be the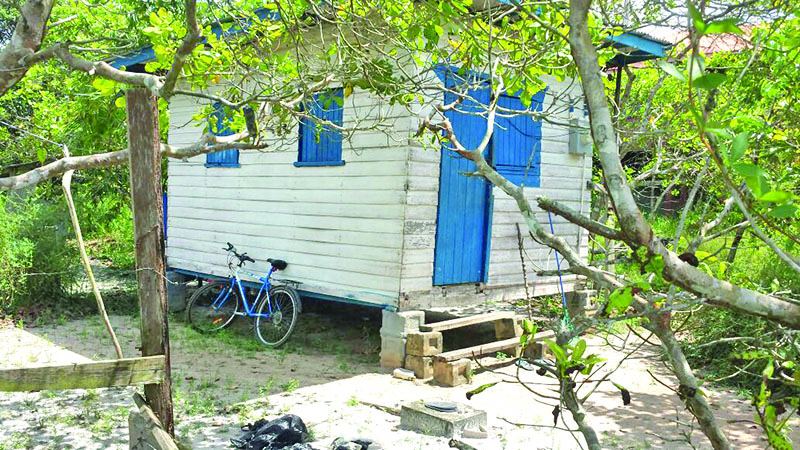 masterminds behind the July 9, 2017 Camp Street Prison fire and escape which left prison officer Odinga Wickham dead.
Durant, also called Royden Williams, was sentenced to death for the Bartica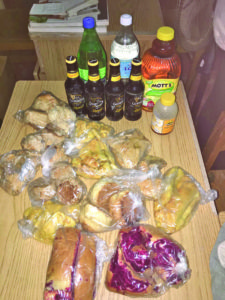 Massacre.