CV Nunes Primary in Anna Regina, Region Two (Pomeroon-Supenaam), and Graham's Hall Primary School located on the East Coast of Demerara are among the top performing schools in this year's National Grade Six Assessment (NGSA).
The much-anticipated results will be revealed today before the excited children who sat the two-day exams on April 17 and 18.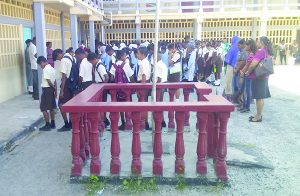 Guyana Times understands that five children who secured places as top performers were from the Academy of Excellence and were invited to the National Centre for Education and Resource Development (NCERD), Kingston, Georgetown, where the results will be revealed today.
Additionally, three pupils from Success Elementary School on the East Bank of Demerara who also performed well were invited to the event.
One pupil from Mae's Primary in Georgetown, one from CV Nunes in Anna Regina and another from Graham's Hall, ECD, will be attending to celebrate their success of being placed in this year's top 11 performers.
A few of this year's outstanding students include Dave Chowtie, from Graham's Hall Primary and Sarita Somai, Akaia Griffith and Maaseia Salikram from Success Elementary.
Guyana Times spoke with an excited Chowtie, who is one of two public school pupils that made this year's top 10. On Tuesday evening he said he thinks he did well enough to cop the country's envied spot as valedictorian. He said without a doubt that his favourite subject was mathematics.
This year, some 14,715 students across the country sat the exams and were tested in four subject areas including mathematics, English, science and social studies. This was an increase as 14,551 wrote the assessment in 2018.
Along with the announcement of the top performers today, pupils will also be able to view their scores online by providing their respective candidate number and other details. This assessment marks the completion of the primary education programme and determines which secondary institution these students will be placed at.
However, prior to this, the students had to write the National Grades Two and Four Assessments back in 2012 and 2014 respectively. A percentage of the marks from all three assessments will be calculated to determine the overall performance of each student.
The NGSA performance is calculated by adding five per cent of each candidate's Grade Two scores in mathematics and English, and 10 per cent of the Grade Four score in the same subjects.
This is then added to a further 85 per cent of each candidate's score in those subjects at the Grade Six Assessment. The combined scores in mathematics and English are then added to the scores gained in science and social studies.