– President Ali says 2 countries must not compete but complement each other
As emerging economies in the oil and gas sector, neighbours Guyana and Suriname are looking to tap into the local Private Sectors in both countries to peddle sustainable development and further strengthening bilateral ties.
This was disclosed by both President Dr Irfaan Ali and Surinamese President Chandrikapersad Santokhi at a media briefing on Sunday at the State House in Georgetown. President Santokhi, who like his Guyanese counterpart is newly sworn-in, came to Guyana on Saturday to attend the inauguration ceremony of the Guyanese Head of State.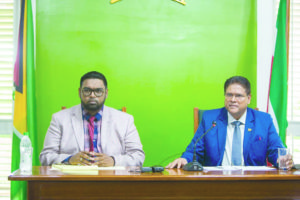 Since then, the two neighbouring leaders have been engaged in a series of meeting with stakeholders on a number of issues. In fact, the Guyanese and Surinamese Presidents met with members of the local Private Sector and diplomatic community during a 'working breakfast' at State House where business and commerce opportunities, among other mutual areas of benefit, were discussed.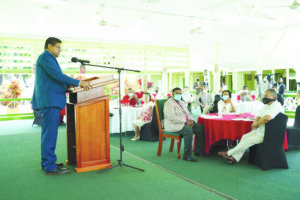 At a brief subsequent joint press conference, President Ali noted that bilateral talks with the Suriname President centred on new opportunities from emerging sectors as well as infrastructural links that can create opportunities for both countries.
To this end, he noted it was recognised that a proactive and "time-bound" agenda needs to be set out to fast track and ensure commitments made between the two leaders are fulfilled.
"We have laid the framework that would enable us to make use of the opportunities, confront the challenges, define the way we approach international partners, international financial institutions, raising of capital, management of the natural resources sector, joint engagement on Local Content Policy and the sharing of information are among the weighty issues addressed," President Ali posited.
However, he pointed out that for these to be achieved then the involvement of stakeholders from both countries, particularly the Private Sector, is imperative.
"We have also discussed ways in which the Private Sector in both countries will collaborate and be a part of this transformational landscape that can bring tremendous benefit to our countries," President Ali posited.
In fact, the neighbouring South American countries, which are also members of the Caribbean Community (Caricom), have already discussed the establishment of a Guyana-Suriname Chamber of Commerce to make doing businesses between the two countries easier.
During Sunday's engagement, the Private Sector community here in Guyana signalled their intention to take up the Surinamese Government's invitation to explore investment opportunities in the Dutch nation.
According to the Guyanese Head of State, given that the two countries share the same challenges as well as resources, there will be a menu of areas and sectors in which they will collaborate on by sharing knowledge and information, building human resource capacity, among others.
"We can't compete against each other in terms of different sectors but we can complement each other. So we have to have discussions on what is best on our side, and where we can concentrate our efforts and where Suriname can concentrate their efforts so we have more synergies. The purpose is to have more synergies to complement each other," he contended.
President Ali further noted that he and his Surinamese counterpart recognised the importance of setting sustainable goals in the region and noted that the Private Sector will play major stakeholders in this.
This sentiment was also shared by President Santokhi, who asserted that sustainable development should come from the Private Sector and the small and medium scale businesses.
"That is where the opportunity is for both countries. We invite those companies to invest in Suriname and that will be the sustainable backbone of our economy," he noted.
The Surinamese leader pointed out that as small nations within the region, they always look to invite the big multinational companies to come and invest in their countries, and in doing so often forget about local companies.
"They are here in Guyana and Suriname, but also here in the diaspora. Let us give them now the opportunity. Let's invite them and see what kind of contribution they can deliver to our economy and bring a situation which is in the timeline of our countries of the stabilisation stage," President Santokhi stated.
He went on to say, "…that's why we asked Private Sector to come today so we can start conversation to invest. Therefore, we will have some mechanisms like the Guyana – Suriname Chamber of Commerce; cooperation; and also business forum that will contribute to strengthening our economy."
Meanwhile, both Presidents were confident that their approach will yield more success than their predecessors. In fact, President Santokhi explained that while there were a lot of achievements gained in the past, the difference now is the confidence he and President Ali possess.