– during Private Sector Commission's meeting with GECOM CEO
The Private Sector Commission (PSC), having met with top officials of the Guyana Elections Commission (GECOM), has been assured of the Secretariat's preparedness to hold Local Government Elections (LGE) and guard against the attempts to rig that permeated the last General and Regional Elections.
In a statement on Saturday, PSC revealed that it met with GECOM Chief Elections Officer (CEO) Vishnu Persaud a few days ago, to discuss preparations for LGE. This meeting comes even while PSC has written to GECOM seeking Local Observer Accreditation status for the LGE.
"The Private Sector Commission sought assurance that GECOM is organised and prepared to conduct a free, open, and transparent election and that arrangements are in place to guard against any attempt to illegally manipulate the presentation and counting of the Statements of Poll during the process of tabulation as occurred in the last General and Regional Elections," the statement said.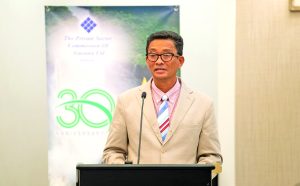 Meanwhile, PSC Chairman Paul Cheong confirmed to this publication that during the meeting they were indeed assured by GECOM that the Secretariat was well prepared to hold LGE and that its systems would be robust enough to protect against any manipulation of election results.
Last month, Local Government and Regional Development Minister Nigel Dharamlall had set Monday, June 12, 2023, as the date for the holding of the much-anticipated and long overdue LGE in Guyana.
LGE was initially set for March 13 this year, but GECOM had deferred it in December 2022 to address issues relating to its registration exercise. This postponement occurred after a court action was filed by Opposition-aligned persons, challenging the process used to compile the List of Electors, or Voters' List, for the pending LGE.
Meanwhile, GECOM has already been in preparation mode over the past few months as it gears up for the long overdue elections. Also in February, the Commission announced that it has reopened the process to provide a further opportunity for political parties, groups, or individuals wanting to contest the upcoming LGE to submit their applications for approval of their symbols.
Section 48 (1) of the Local Authorities (Elections) Act, Chapter 28:03, provides that all political parties, voluntary groups, and individuals who are desirous of contesting LGE are required to submit a symbol for approval by GECOM no later than the 21st day before Nomination Day.
In this regard, GECOM said in a statement that March 1, 2023, has been set as the date by which a printed and electronic version of the symbols must be submitted to the Commission.
However, it was explained that those political parties, voluntary groups, and individuals who have already applied for approval of their symbols, and who would have already received notification that their symbols were approved are not required to reapply.
"Political parties, voluntary groups, and individual candidates are required to submit, on Nomination Day, their respective lists of candidates accompanied by the relevant pre-approved symbol. In this regard, political parties, voluntary groups, and, individual candidates are advised that their lists would not be accepted without a pre-approved symbol," GECOM stated.
GECOM has previously indicated that its approved work plan entails, among other things, that the Elections Secretariat would immediately move to roll out a robust civic and voter education programme, appoint Electoral Registrars and Assistant Electoral Registrars, and extract the Preliminary List of Voters (PLV).
"These activities are directly linked to the preparation of Registers of Voters for each of the 80 Local Authority Areas (LAAs). Preparation for the conduct of Local Government Elections commenced in 2022," GECOM had explained.
"In this regard, the GECOM Secretariat had already completed the training of management and polling day staff for all of the Local Authority Areas, and the receipt of applications for and approval of symbols submitted by political parties, voluntary groups, and individuals who intend to contest in the elections."
Prior to the date for LGE being set, GECOM had decided to adopt a report from the CEO confirming changes to constituency boundaries, moving the Commission closer to holding elections – although not without a fight from the Opposition-nominated Commissioners.
It was decided last year that 14 areas in which boundaries were modified by the A Partnership for National Unity/Alliance For Change (APNU/AFC) Government would be reverted in the lead-up to the LGE when they are held, to allow for better representation.